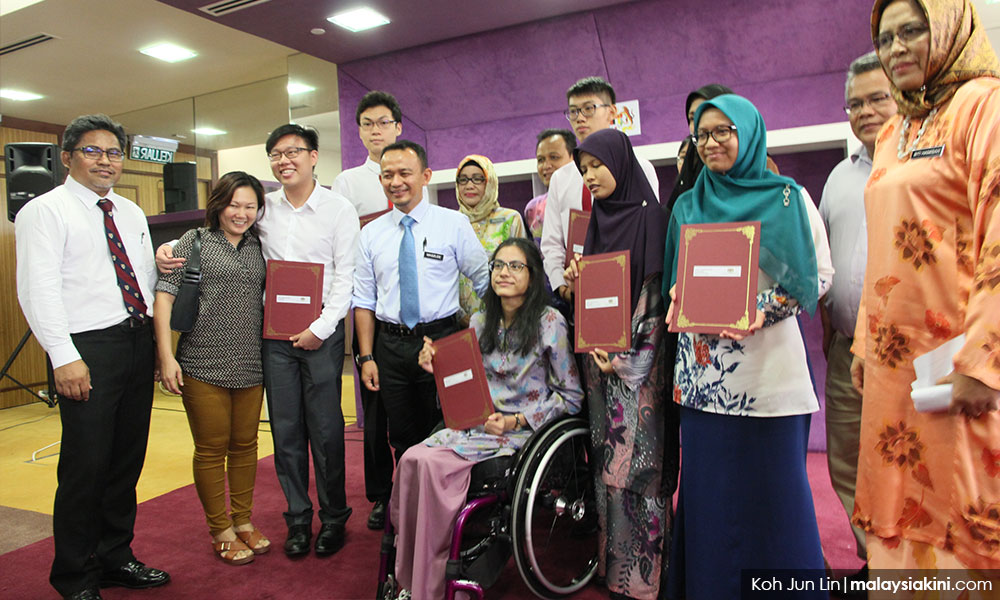 Education Minister Maszlee Malik's team's attempts to seek public feedback on the education system through a Google Form webpage has received about 11,000 submissions in two days, the minister said.
In addition, he said people are also reaching out to him through social media channels as well as the messaging service WhatsApp.
"It nearly crashed my system. Anyway, we are still accepting (feedback) and people are pouring (in comments), not only into my Google Form but into my Facebook, into my WhatsApp messages.
"I still can't open my handphone yet to this moment, but it's good. It shows that people are really concerned about education, about the future of Malaysia, and everyone wants to contribute towards a better future of Malaysia and of the new government," he told reporters in Putrajaya today.
He was speaking to reporters at a press conference after presenting offer letters from various institutions of higher learning to a group of SPM leavers, where he was asked about the feedback received through the
Google Form
on Monday
.
Asked on the feedback received, Maszlee said teachers were primarily concerned with their administrative workload, while parents - especially those of primary school children - are worried about the weight of the textbooks their children carry.
University students and graduates, meanwhile, took issue with the University and University Colleges Act 1971 (UUCA) and the PTPTN education loans.
Asked whether he has raised the issue of abolishing the UUCA in the cabinet, Maszlee said the cabinet is currently focused primarily on financial issues. However, UUCA's abolition is still in the works.
Earlier in his speech, Maszlee announced he has ordered the formation of a committee to implement Pakatan Harapan's election promises at the ministry level.
Maszlee said he will chair this committee, which has its first meeting next week. Other members of the committee are the director-general of education, director-general of higher education, and all of the ministry's top management.
As for the SPM school-leavers, Maszlee said the government has offered 182,409 candidates positions in public universities, polytechnics, and community colleges, compared to 149,000 last year.
These include 17,338 candidates from the B40 income group, 299 candidates with disabilities, 348 Orang Asli candidates, and 1,225 athletes.
However, he said it has come to his attention that some candidates who had performed well in their studies were not offered a placement, and urged parents of such candidates to file an appeal to the Department of Higher Education.
"God willing, we will try to help within the constraints that we face. We would never discriminate against anyone, but we need parents to appeal so that we know about such cases and try to help.
"I guarantee that all appeals would be treated fairly," he said. -Mkini