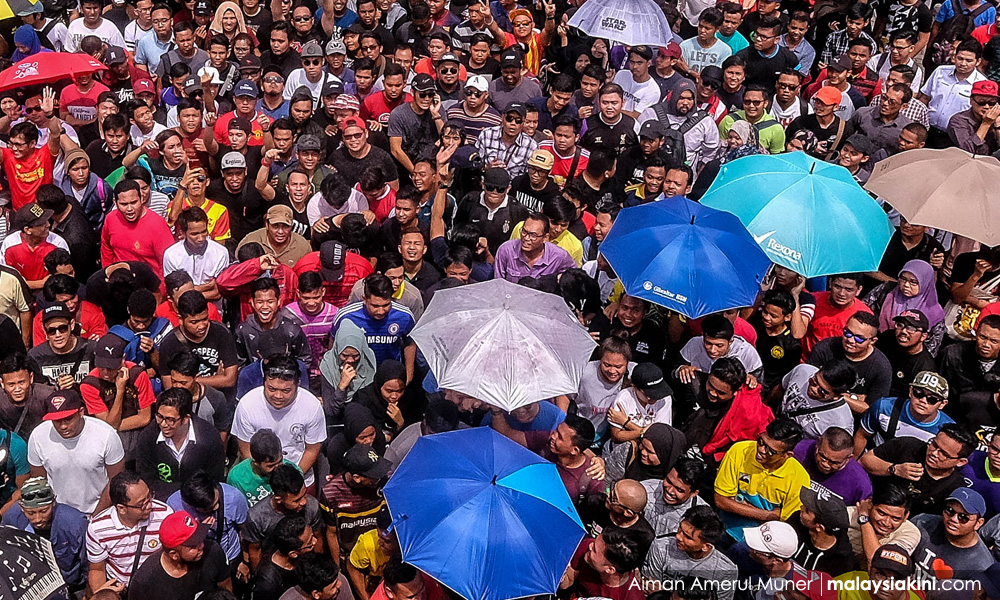 YOURSAY
| 'Putting everything online should be no problem in digital Malaysia.'
Abasir:
So here are some facts. The previous regime forced the rakyat to "donate" via the GST to make for their losses. Now, this government hopes the same rakyat will voluntarily donate for the same reason.
The bottom line is that regardless of who rules, it is the long-suffering rakyat who will pay for the transgressions of their "leaders".
I do not mind donating, but only after every Datuk, Datuk Seri, Dato', Dato' Seri, Tan Sri, Tun and Sultan in the country shows the way and leads by example.
The finance minister, who often touts "Competency, Accountability and Transparency" (CAT) as the way forward, should also publish, for the sake of transparency, the amount donated by every one of these honoured men and women, the cream of society who Malaysians have been programmed to look up to.
To get the ball rolling, I suggest that every member of Pakatan Harapan send in their individual donations and then get Finance Minister Lim Guan Eng to publish the details.
Putting everything online should be no problem in digital Malaysia.
Citizen Peter:
I really want to do my part and donate, but there must be a system to guarantee that donations reach the correct places.
Also, money must be retrieved from those who allegedly stole it - if not, I would merely be bailing out their continued wasteful luxurious lifestyles.
Anonymous #28648954:
Mahathir, for this one occasion, I will donate. But we would, of course, want transparency and assurance that the money we donate will be 100 percent used to settle the country's debt.
Anonymous_20f13320:
Indeed, how do we check that the money goes towards paying debts and not towards corrupt people or bailing out cronies?
I do understand that after the administration of former prime minister Najib Abdul Razak, we will work with the new government to save the country, but blind trust I will not give.
Newday:
With due respect to the prime minister and all those people who support this initiative, why set up the fund?
Given time to uncover and stop wastages, leakages and weaknesses in government departments and government-linked companies; the Internal Revenue Board making sure everyone, including the extremely wealthy, have tax file numbers and pay tax, surely you will find sufficient funds to service the debt.
Asitis:
Malaysia's population size is about 32 million. Even if each of the 32 million people contributes RM10, we will still only have RM320 million, which is insignificant compared to the mountain of debt the country has accumulated.
Also, not all 32 million of us are working adults. There are children and old folks who would not be able to contribute. And not all who are able will contribute (which does not necessarily make them any less patriotic).
So, the amount collected would be much less. But still, it is a nice way for Malaysians to show their love for the country.
I Wonder?:
Crowdfunding, or a Hope Fund, is definitely very good idea and should be encouraged, especially in the sense of promoting patriotism and a sense of participation among the people with regards to the rebuilding of our present dilapidated economy and to boost morale.
But the amount is too insignificant in reality to help much in repairing the huge financial loss due to kleptocracy.
The best and most practical and urgent solution is to quickly stop, stall or suspend all suspicious or controversial transactions or projects pending review and investigation, while concurrently strengthening the MACC so that it can immediately investigate these suspected wrongdoings.
The potential amount expected to be recovered from this sort of corruption and looting would probably come to a few hundred billions of ringgit.
Anonymous_1402027858:
Yes, the donations will not have a chance to make a dent in the national debt.
I suggest the government sell "Hope Bonds" to help pay the national debt. These Hope Bonds shall earn a nominal annual interest which is lower than market rate and can be redeemed in, say, 10 to 15 years.
If the country prospers, the returns for Hope Bonds investors can be increased in tandem.
Horizon:
Most Malaysians would help but would be even more willing to help if the corrupt are seen to be charged and their corrupt monies or assets are forfeited and put into the fund as well.
Gerard Lourdesamy:
Ask not what your country can do for you - ask what you can do for your country.
It's time to support the country. I will be donating shortly and even monthly. Well done to Prime Minister Dr Mahathir Mohamad and the cabinet.
Ronald:
Not a good idea, Dr M. A fund like this initiated by you and the government may have a different kind of response; it may backfire on you because you will probably get the "wrong" type of donors.
There will be generous donors who will willingly contribute but will also generally have an ulterior motive.
I'd rather the government rehabilitate the economy in its own way. You and your cabinet have already made an excellent start. Just continue the good work and the rakyat will support you.
Anonymous_a0e6f552:
People, we are doing this probably once in our lifetimes because we love our country. And because we also love our children and our children's children. They want a better future.
I will just sacrifice playing 4D and Toto for one week. For today, I will do something good and meaningful for my country. And like Finance Minister Lim Guan Eng, I too am a Malaysian.
Stingbug:
I fully support this initiative. I am a retiree and I have just done my part to help Malaysia.
I hope those who have benefited in millions and billions of ringgit from past government projects will do the rightful thing and give back to the rakyat. - Mkini