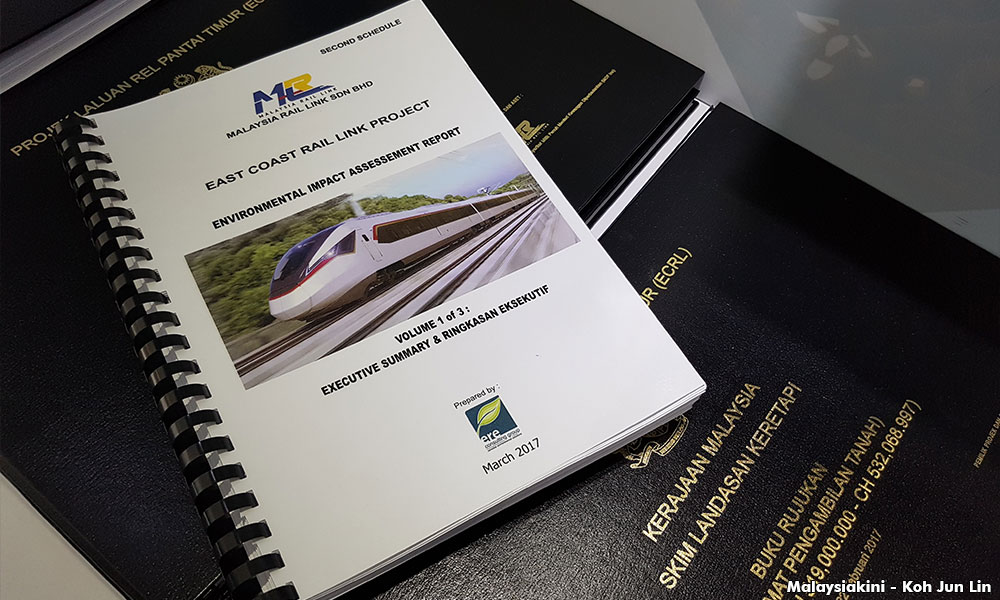 A QUESTION OF BUSINESS
| Not only is the East Coast Rail Link (ECRL) highly overpriced and extremely lopsided in favour of China - that alone is reason enough to scrap it - its ties with 1MDB and attempts to cover up debts by channelling overpriced contract sums should be investigated, unravelled and those responsible brought to book.
As much as the scrapping of the high-speed rail project to Singapore is a pleasant surprise, it came as a shock that the estimated cost of this project was
RM110 billion
, according to Prime Minister Dr Mahathir Mohamad.
This compares to initial cost estimates of RM40-60 billion and shows how much infrastructure costs can balloon compared to initial estimates when the projects are first mooted. Hopefully Singapore will be amenable to reducing the RM500 million compensation, or forego it altogether, for scrapping this unfeasible project as we had explained
here
.
Now let's focus next on the ECRL which the government says costs RM55 billion but which we estimated may cost
RM100 billion
with cost overruns. But if the cost escalation at HSR is anything to go by, then the cost here will be more than double the RM55 billion and could be as high as RM120 billion!
This is a project which is even less feasible then the HSR. Even assuming a project cost of RM55 billion, it is still terribly unfeasible as pointed out in this
analysis
.
The table below gives the main information regarding ECRL but even this is only for the section from Kota Bharu to Gombak. The Gombak to Port Klang section is not included and the Council of Eminent Persons, or CEP, estimated this to cost a further RM11 billion to take the cost up to RM66 billion.
Note too that the project excludes land costs and costs of rolling stock which will take total project costs much higher. Also, the rail is only for a single track at the moment with provisions to incorporate a double track later which will increase project costs further.
In fact, the cost of construction of the link as the current price is said to be by far the most expensive such contract in the world.
Former prime minister Najib Razak said at the launch of the ECRL last year that cargo is projected to reach an annual 53 million tonnes by 2030. Some 13 years from now, the cargo will be less than 10% of Singapore's cargo throughput in 2016 of 593 million tonnes. Passengers carried are projected to be 5.4 million.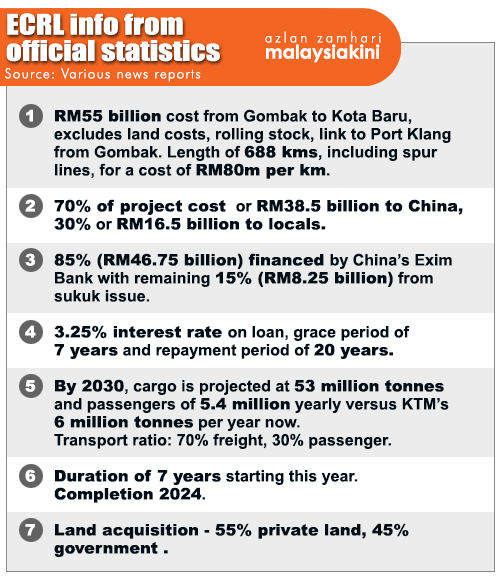 Currently, KTM transports just six million tonnes per year and its revenue is estimated at no more than RM600 million last year, which gives an average transport charge, ignoring passengers, of RM100 a tonne.
If we use this figure for ECRL, 53 million tonnes will give it a revenue of RM5.3 billion for freight or RM7.6 billion in total, assuming the given ratio of 70% freight to 30% passenger for revenue. A 20% margin on this gives income of RM1.5 billion, only 15% of our calculated required return on cost of RM10.25 billion. Even if we use the given cost of RM55 billion and 10% return for a required income of RM5.5 billion, the RM1.5 billion figure is just 27% of that.
Will it at least pay for interest costs and repayment of loan? No. Our calculations indicate that at the end of seven years of grace period from repayment, the loan amount of 85% or RM46.75 billion would have gone up to RM58 billion at an annual interest rate of a compounded 3.25%. Thereafter, loan repayments on the RM58 billion over 20 years amount to just under RM4 billion a year. Income of RM1.5 billion is only 37.5% of repayment, short by RM2.5 billion a year when repayment starts.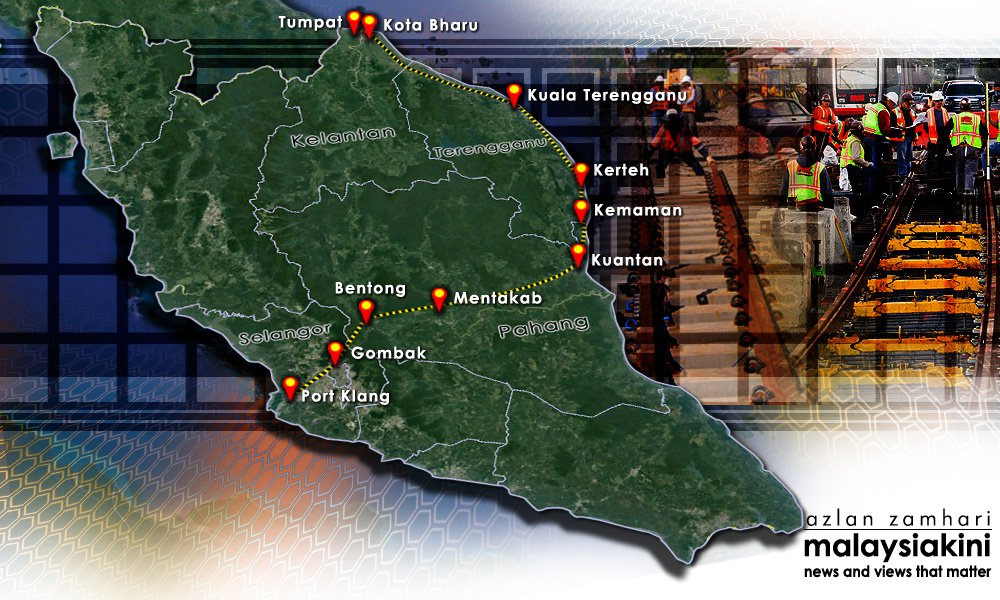 Malaysia is a sure loser - of the order of billions. Is the public a winner? Some, because of easier transportation but anyone who rides the current highway from Kuala Lumpur to Kuantan - it takes only two and a half hours by the way - knows that it is considerably underutilised. The amount spent for that kind of dubious and small gain in convenience is ridiculously high.
The only winner in this horrific scam is China. Yes, it extends the loan but it gets the major 70% share of construction. Its goods can be transported at a lower cost - it may even be a captive customer enabling it to dictate prices. It undertakes no risk as it has no stake in the project - if the country cannot repay, it will take something else. It gives no undertaking to use the port facilities, allowing it to go where prices are cheapest.
Meantime Prime Minister Dr Mahathir Mohamad told The Edge in an interview, the loan for Malaysia to build the ECRL is kept abroad adding that this led to suspicions that some of the money was used to repay 1Malaysia Development Bhd debts and buy certain companies. The Edge further reported, quoting sources, that the cost of the ECRL project was inflated by about RM20 billion, in part to buy assets from 1MDB.
All that indicate one thing clearly - the ECRL project must be scrapped and a reasonable compensation scheme put in place only if it is absolutely necessary. If corruption is involved in the contract, it may be possible to legally negate it altogether without any compensation.
The corporation of the Chinese authorities should be obtained for this and in this regard, we should not buckle down to bullying by China to pay an exorbitant sum to settle the termination of the contract.
---
P GUNASEGARAM says we should always put Malaysia first. E-mail: t.p.guna@gmail.com. -Mkini