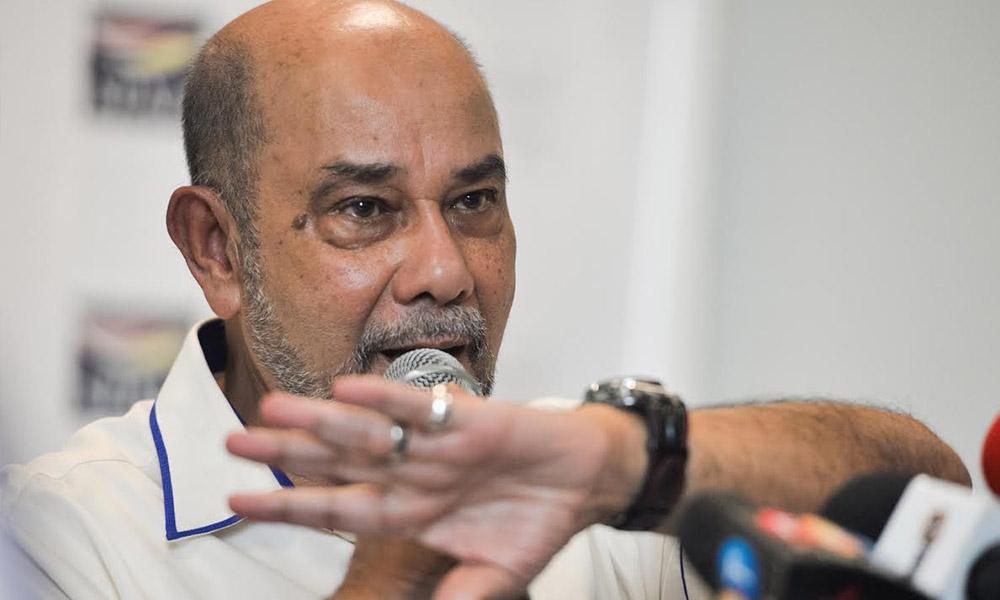 MP SPEAKS
| What supreme irony – Najib Abdul Razak trumpets his achievements for Umno while Syed Hamid bids farewell to Umno as it has betrayed its founding principles
In an exclusive
interview
with Malaysiakini, Najib said that his successor must be someone who is able to regain the confidence of party members and Malaysians.
He said: "This is an opportunity for us to regain the trust, so the person must be someone who can do that so that Umno can emerge as a stronger party."
It is tragic that 50 days after the watershed and historic 14th general election on May 9, the former Umno president and prime minister is still living in a bubble and has not realised that he has lost all credibility and is the last person in the country to talk as to how Umno is to regain the confidence of 3.6 million party members and Malaysians.
This is borne out by the latest Merdeka Centre survey which shows that more Umno members believe Najib caused them to lose the government rather than the goods and services tax (GST) issue.
Two out of five Umno members polled blamed Najib but only one out of five said it was the GST. Only 8 percent believe that Dr Mahathir Mohamad was a factor for BN's historic defeat.
The survey by Merdeka Centre for Opinion Research showed about 40 percent of Umno delegates and members polled believed that Najib was to blame for BN's shocking defeat last month.
I am struck by the images of Umno vice-presidents of the past compared to Najib today.
When the late Tunku Abdul Rahman took over the Umno leadership from Onn Jaafar in 1951, the party had no money and Tunku sold his house in Penang to fund the running of Umno.
Sixty-seven years later, Malaysians have to learn first-hand from the first Umno couple the existence of the unbelievably expensive and rare Birkin and Bijan handbags - brands which they had never heard of before – which were among the RM1.1 billion worth of cash in 26 foreign currencies, watches, handbags and jewellery seized by police at the Pavilion Residences linked to Najib
The third prime minister of Malaysia, Hussein Onn, was synonymous with integrity but Najib, the sixth prime minister, has joined the pantheon of kleptocrats the likes of Suharto and Marcos.
It is doubly tragic that another famous Umno son, Syed Hamid Albar, has today given his reasons for saying farewell to Umno.
Declaring that he is no longer a member of Umno, Syed Hamid said Umno is no longer the one he once knew.
He said: "While Umno was founded upon the ideals of ensuring that the Malay race, the religion of Islam and culture are upheld and protected, this did not in any way mean that other races, beliefs and traditions should be marginalised."
Syed Hamid said it pained him to admit that "the ideology and philosophy that Umno was built on has been twisted to become intolerant, self-centred and even undemocratic".
Umno's leaders had grown "elitist, too far removed and detached from the grassroots" to listen to or understand the needs of the people.
He said the same leaders had "practised and condoned a denial syndrome that has gone on for far too long, foregoing transparency and the rule of law in favour of their own excesses".
He continued:"Umno's leadership in recent years has destroyed the party's image, reputation and good name, as they allowed abuse of power and corruption to thrive.
"Umno is not the party I once knew. It has become a selfish party that strives for its own survival and gain, and cares little or not at all for the rakyat.
"The ideals the party once held sacred were abandoned and at best, were used as rhetorical speeches for Umno politicians with vested interests.
"Be that as it may, the principles that the party once believed in are still very much alive in me, and that ironically made me realise that I can no longer serve the party that has abandoned its principles and ideals."
Does Najib realise that the only way for Umno to regain credibility and relevance in Malaysian politics is for Umno to make a clean break with the past, which means repudiating Najib's legacy of a kakistocratic and kleptocratic state?
---
LIM KIT SIANG is MP for Gelang Patah. -Mkini