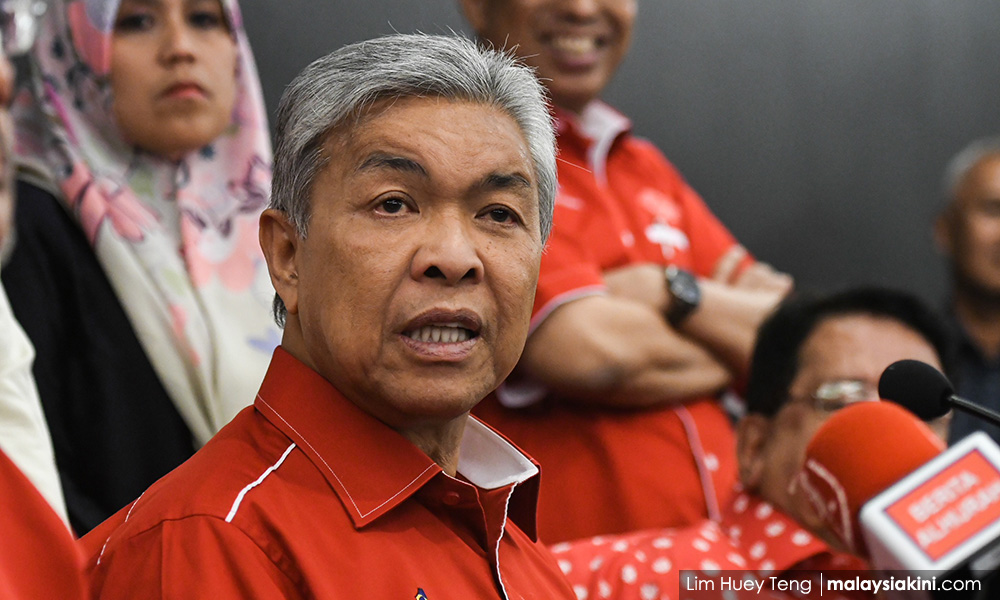 Umno presidential candidate Ahmad Zahid Hamidi has pledged to implement a two-term limit for the party president's post if he wins it in tomorrow's party election.
"(I will) set the tenure of the party president to be not more than two consecutive terms," he said in a Twitter post today.
This is to maintain a culture of meritocracy culture besides promoting a systematic and civilised transition of leadership, he said.
Zahid, however, may need to amend the party's constitution to set a two-term limit for president's post. Currently, there is no restriction on the tenure of the Umno president.
Zahid's promise may also shorten the future prime minister's tenure if Umno reclaims Putrajaya as traditionally the Umno president also becomes the prime minister.
As an example, Dr Mahathir Mohamad served as Umno president from 1981 to 2003 and was also the prime minister for 22 years.
Zahid also promised to set up a special task force to address money politics and the "warlord" culture in the party.
A special committee will be set up at the supreme council level to look into the restructuring and re-branding of Umno, according to him.
He also proposed an executive advisory council comprising academicians, professionals, clergy and youth representatives.
"This council will provide views and advice to the top leadership particularly the president on current issues," he said.
Media teams for all divisions
Another special task force will be set up to listen to the voice of the grassroots, he added.
Zahid also said Umno should remain a party only for Malays and the bumiputera but the party could take in volunteer members and supporters.
He said he will make it compulsory for the youth vice-chief and Wanita vice-chief to become supreme council members.
Meanwhile, Zahid also pledged to set up a media unit merging conventional media, social media, bloggers, cyber-troopers into a news portal providing its own news element.
On top of that, he said media teams will be set up at all 191 divisions. - Mkini