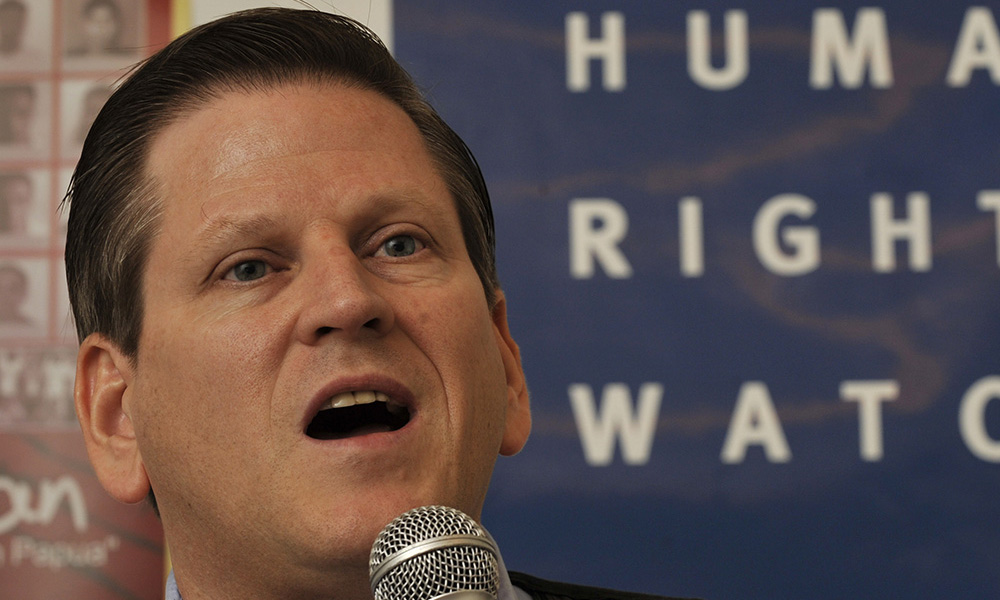 The Human Rights Watch said it is "profoundly disappointed" with fugitive businessperson Jho Low for using its name to justify his arguments against Prime Minister Dr Mahathir Mohamad.
HRW Asia deputy director Phil Robertson (photo above) said Low was a hypocrite as he himself benefited from human rights abuses under the Najib Abdul Razak administration.
"No one should forget that Low was connected at the hip with former prime minister Najib and his rights-abusing government which charged anyone with sedition for daring to state what is widely known as true - that 1MDB was the site of a looting party by Najib and his cronies.
"The truth of the matter is, Low was more than happy to benefit from human rights abuses when it suited his personal interests, so he's a hypocrite to come out with this line now," he said in an email to Malaysiakini.
During the Najib government, sedition probes were opened against numerous critics of the then prime minister.
Former second finance minister
Husni
Hanadzlah was also probed under the Sedition Act for speaking about the 1MDB scandal in Parliament.
Robertson was responding to Low's open letter yesterday, citing Robertson's criticism of the Mahathir government, to say that Putrajaya was pursuing his family at the expense of human rights.
This was over Putrajaya's attempt to forfeit his family home in Tanjung Bungah, Penang. He stressed that the building pre-dates the scandal.
'Fulfil human rights pledges'
Robertson had previously criticised the government for withdrawing from the Rome Statute of the International Criminal Court.
In his email today, he reiterated his call for Pakatan Harapan to fulfil its human rights pledges.
"The Harapan government should re-sign the Rome Statute and join the International Criminal Court, ratify the UN human rights treaties as promised, and fulfil its other human rights-related pledges in its election manifesto.
"That way, people like Jho Low will have no room to criticise the government on human rights grounds," he said.
The US Department of Justice believes at least US$4.5 billion (RM18.9 billion) was misappropriated from 1MDB.
Low is accused of masterminding the illegal transactions which siphoned off money from the state fund.
Low has been charged in absentia in both the US and Malaysia. He has refused to return to Malaysia, claiming that he will not get a fair trial in the country. The Penang-born businessperson has also eluded US authorities.
Najib is already standing trial for 42 charges of criminal breach of trust, money laundering, and abuse of power in relation to the 1MDB scandal.- Mkini