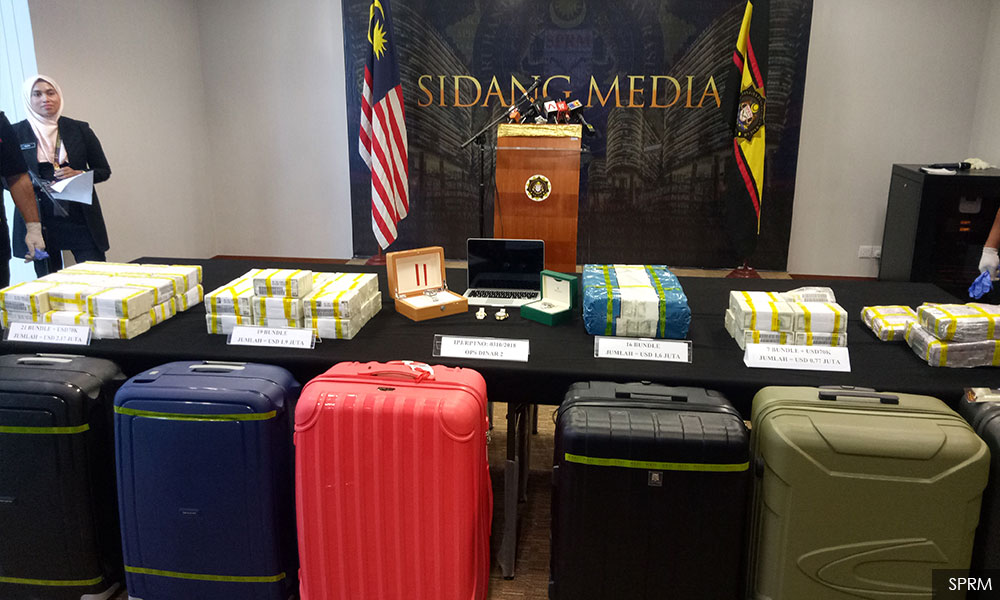 Three of the
18 individuals
named in Putrajaya's forfeiture suit over property and valuables linked to 1MDB could not be served papers because they have "run away," the Kuala Lumpur High Court was told today.
Deputy public prosecutor Fatnin Yusof informed judge Mohamed Zaini Mazlan that the prosecution will apply for the hearing to proceed without Geh Choh Hun, Mohd Kyizzad Mesran and Aiman Ruslan.
Geh, a close confidant of 1MDB-linked businessperson Low Taek Jho, used to chair the 1Malaysia Welfare Club of Penang. The club organised dinners and distributed cash to several organisations during the 2013 general election.
Kyizzad was formerly an officer with the Prime Minister's Department in the asset management section. Aiman, meanwhile, was formerly of the Selangor Islamic Department (Jais).
The
forfeiture suit
filed by the Attorney-General's Chambers on May 8 involves a total of 18 respondents, including former prime minister Najib Abdul Razak, his wife Rosmah Mansor, and his children Riza Aziz, Nor Ashman, and Nooryana Najwa.
"All court papers had been served on respondents per the requirements of the Anti-Money Laundering, Anti-Terrorism Financing and Proceeds of Unlawful Activities Act (AMLATFA) 2001," Fatnin told the court during case management.
"However, respondents 16, 17 and 18 (Geh, Kyizzad and Aiman) have run away.
"(Attempted) service (of court papers) on those who have absconded have been done per Section 66 of the act. (According to the section), proceedings can go on until its completion."
Fatnin also made an application under Section 61(2) of the act to publish a notice to call for any third parties with an interest in the seized property and valuables to attend court proceedings and show cause on why said items should not be forfeited.
"Respondents who are present today have no objection to this. We need time (to prepare the notice)," she said.
The lawyers present – including for Nor Ashman and Nooryana – did not object to the application.
During the same proceedings, Najib's counsel Muhammad Farhan Shafee (photo) suggested that particulars of the seized items should also come accompanied by photographs.
Farhan said this would ease the process of preparing affidavits, as it would allay confusion in the listing of the items.
Zaini said that he had no power to compel the prosecution to take on the suggestion, but noted that it was a reasonable request.
The judge set Aug 30 for case management, to allow the prosecution sufficient time to publish the aforementioned notice for third parties in the Gazette.
"This is will be a long journey, but by August, various parties will be able to get (court) direction on submitting affidavits," he said. "They can work on the drafts as there is a lot of time."
On May 17, it was reported that a notice could not be served on Low's mother,
Goh Gaik Ewe
, as she was overseas.
Her lawyer, M Puravalen, informed Zaini that court papers could still be served at a later date.
Low's family bungalow in Penang was among the properties listed in the forfeiture notice, along with 27 vehicles, handbags, watches and cash in various foreign currencies, among others. - Mkini