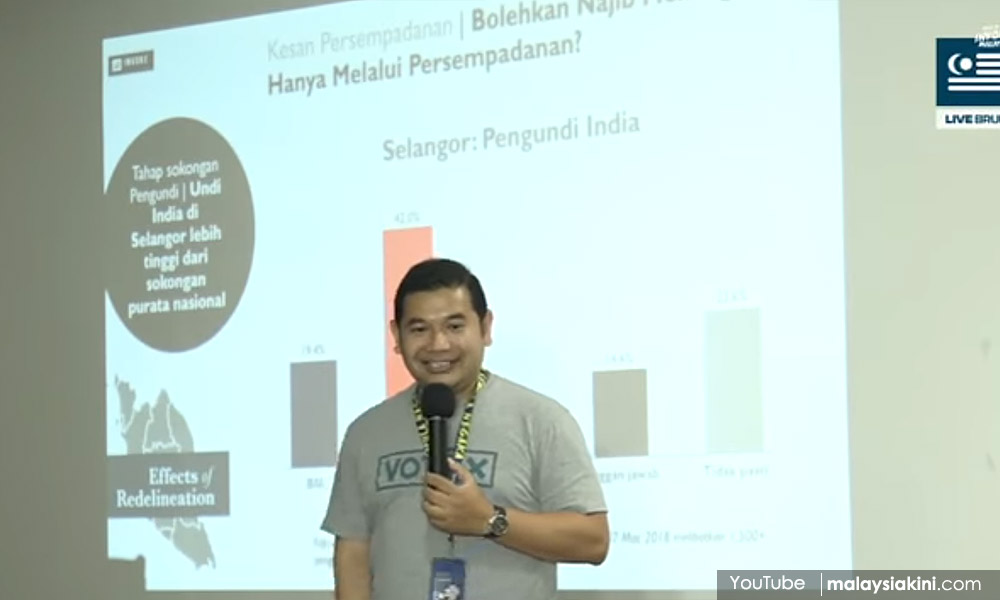 Many are of the opinion that the Election Commission's newly gazetted redelineation of electoral boundaries will be tilted heavily in favour of the ruling BN government in the upcoming general election.
But a survey by think-tank Invoke revealed that only a handful of Pakatan Harapan's parliamentary seats were affected by the redelineation exercise.
Invoke founder and Pandan MP Rafizi Ramli, in a forum last night on the effects of the redelineation exercise, cited 13 seats that were most affected by the redrawn electoral boundaries.
These seats saw an increase of Malay voters, coupled with a decrease of non-Malay voters.
"The diagram shows parliamentary seats in the Peninsular which saw an increase of over one percent of Malay voters in the constituencies. It (the redelineation exercise) is only affecting a handful of seats," he said, showing a number of Powerpoint slides to the audience.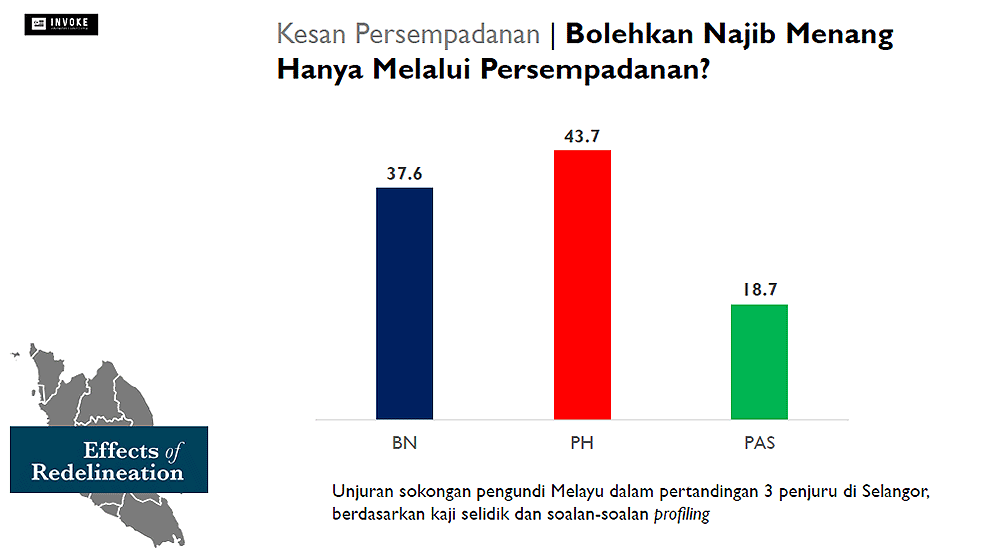 Rafizi argued that claims that the redelineation exercise would see Prime Minister Najib Abdul Razak winning a bigger majority in the upcoming general election had not been supported by facts.
The 13 most affected seats are - with some identified by their new names - Sungai Buloh, Kapar, Hang Tuah Jaya, Hulu Langat, Bandar Tun Razak, Lumut, Bukit Gantang, Bangi, Lembah Pantai, Ipoh Timor, Shah Alam, Damansara and Tanjung Piai.
The seat that is most affected by the redelineation exercise is Kapar which saw an increase of 15.4 percent of Malay voters and a decrease of 12.5 percent of non-Malay voters.
According to Rafizi, out of these 13 seats, only Shah Alam, Bukit Gantang and Tanjong Piai will be narrowly lost by the opposition.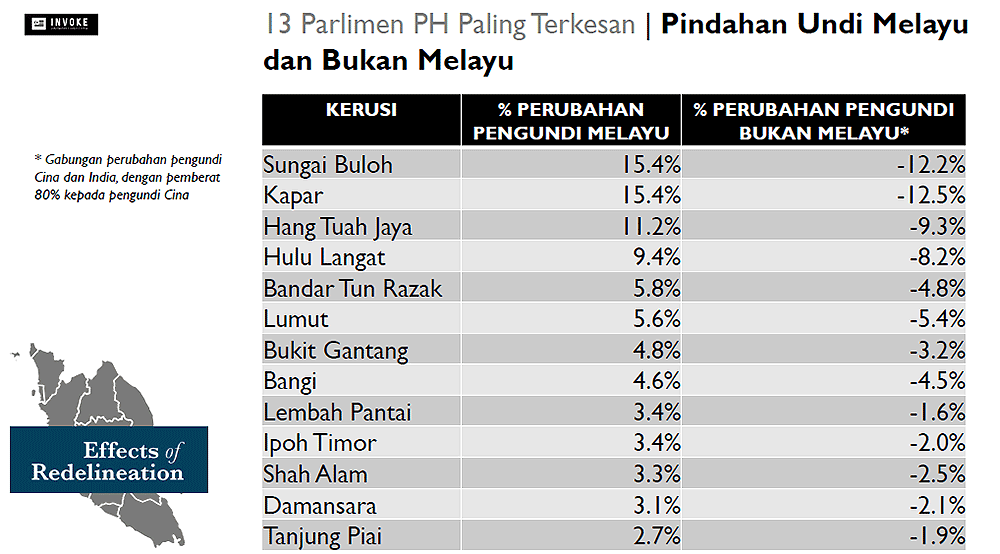 He further noted that most of the 13 seats affected are in Selangor.
"Actually, it's not so significant in the other states. I'm not showing (data) on the other states to show that despite Selangor being affected the most by the redelineation exercise, we (Harapan) are still leading."
Among Harapan component parties, PKR, he added, was the most affected while the DAP was the "biggest winner" in the whole exercise.
"You can see the pattern. The whole world knows that bringing and clustering as many non-Malays as possible into an already majority non-Malay seat will make it a supermajority non-Malay seat."
Despite the increase of Malay voters and the decrease of non-Malay voters in certain constituencies, Rafizi said Harapan can still win comfortably.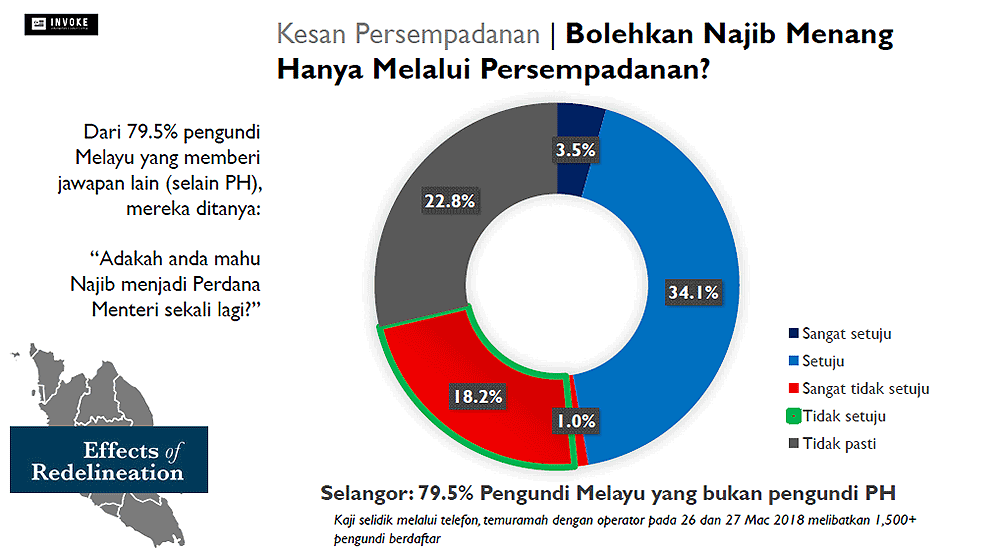 "The redelineation, while it is thought the change in voters' composition is meant to favour BN, but because voters' support has also changed in Selangor, the effect is it does not swing the seat to BN but will just reduce Harapan's (winning) margins."
And the ruling BN, claimed the PKR vice-president, can "redraw the boundaries as much as possible" but it cannot control newly-registered voters.
"That has somewhat balanced the effect of the redelineation. Also, there has been a change in how the Malays will vote.
"With the increased of Malay support for Harapan, and you take all these into account, it doesn't change that much, there's going to be almost a neutral result after the redelineation."
Asked later by someone in the audience whether the much-touted Malay tsunami was due to Harapan's newest partner Bersatu, Rafizi denied that this was the case.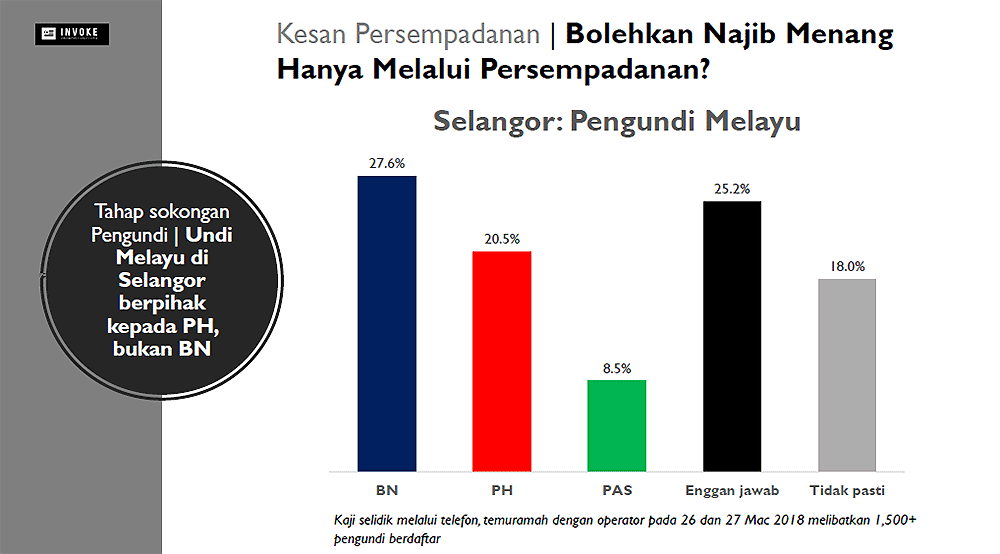 "Malays, especially those in the cities, have been angry. Whereas in the villages, they don't drive cars nor do they pay toll fares. But (Malays in urban areas are angry) because there is the Goods and Services Tax.
"If we win, we have to give an award for GST to (prime minister's wife) Rosmah (Mansor)," he quipped.
Meanwhile, Rafizi said some electoral analyses on the redelineation exercise did not take into account many other factors.
"Most of the analyses assumed that voters would vote the way they did in 2013. You and I know that's not true.
"So much has changed since 2013, it's extremely academic to make an analysis and say Umno is going to win.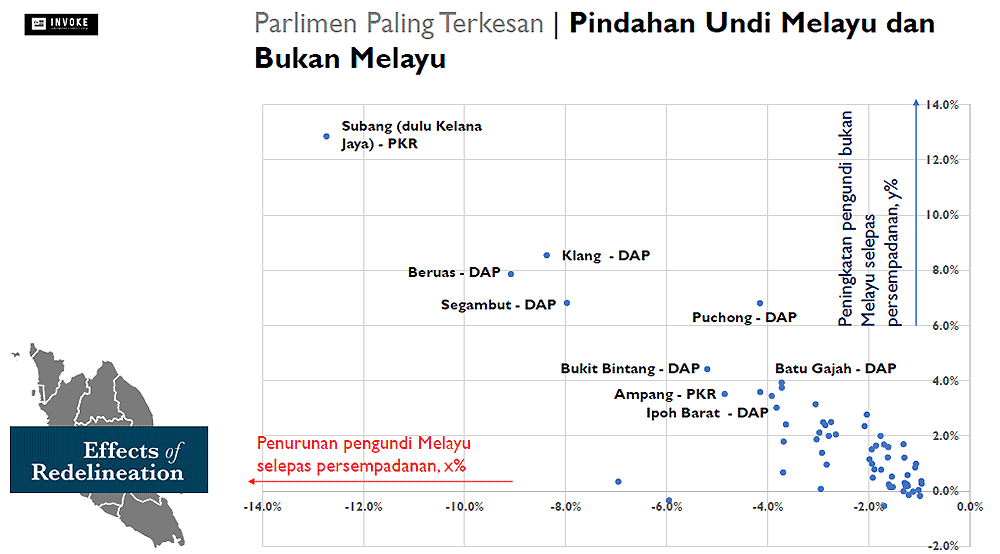 "The dynamics have changed, Pakatan Rakyat is no longer around, Dr Mahathir (Mohamad) is with Harapan and PAS is the third party."
Invoke's analysis, said Rafizi, had included both checks on lists of voting districts as well as the gazetted plan published by the Survey and Mapping Department.
Meanwhile, when pointed out by an audience member how Invoke's prediction earlier this month that Harapan would be able to
win 89 seats
in the Peninsular still fell short from the 112 seats required for a simple majority, Rafizi said that did not include another 15 seats Harapan and Parti Warisan Sabah were expected to win.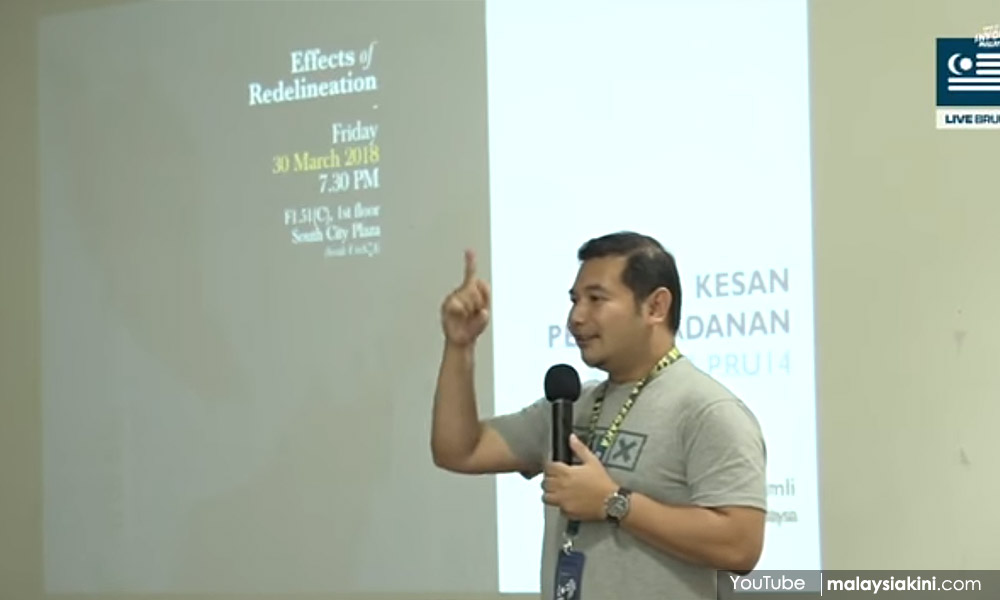 "The 89 seats also does not include seats that we can win marginally. My reading is we should be able to cross 100 in the Peninsular. This is why I am critical of those who say that Harapan is far behind and cannot win."
The latest Invoke survey which was conducted in March had polled around 1,000 respondents who were called to answer questions on how they would be voting in the general election.
Malaysiakini
on Wednesday reported that the EC's new electoral boundaries will help BN
wrest seven state seats
away from Harapan and PAS in the general election.
Based on data from the last general election, the new boundaries will see BN likely to increase its haul of state seats in Selangor from 12 to 19. However, it will still be nine seats short of being able to form the state government. - Mkini