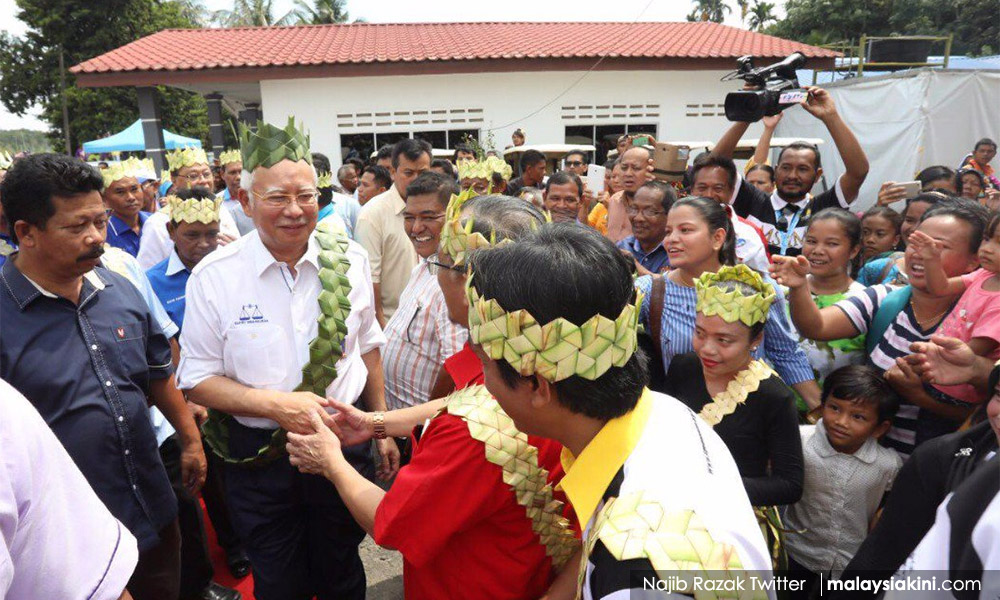 Prime Minister Najib Abdul Razak today announced an allocation of RM61.5 million for the implementation of Phase 1 of the Orang Asli Village Water Supply Project in Pahang.
He said the allocation involved 14 Orang Asli settlements in five districts in the state, involving repair and water supply connection cost, water bill subsidies and financial assistance to Pengurusan Air Pahang Berhad (PAIP).
Najib, who is also Pekan MP, said four villages in the Pekan district would also benefit from the project, namely, Kampung Simpai, Kampung Api Larat, Kampung Tasek Mentiga and Kampung Selingkong.
"I also want to announce that on May 1, every house in Kampung Simpai will be able to enjoy clean water as I was told Felda Water Sdn Bhd would complete the construction process," he said during a working visit and friendly gathering with the Pekan Orang Asli Community at SK Simpai here, today.
Also present were Pahang State Assembly speaker Ishak Muhammad, senator Isa Ab Hamid, Pahang Orang Asli Development Department director Johari Alwi and Tenaga Nasional Berhad chief executive officer Datuk Seri Azman Mohd.
In addition, Najib also announced an allocation of RM9 million to upgrade the access road to Kampung Simpai, which is currently a laterite road through oil palm plantations.
He further announced that TNB would also repair 100 Orang Asli homes in Pekan, which is part of its corporate social responsibility programme.
"The company Feilo Sylvania will also provide RM100,000 for the purpose of installing 3,000 LED lighting units in 15 schools in Pekan, specifically in the Orang Asli villages.
"SK Simpai is one of the schools selected for the installation of the lights that I am told will save electricity consumption by 50 per cent.
"I also want to approve an ambulance for the Runchang Health Clinic. I want to say to the Orang Asli that they have a special place in my heart," he said.
At the event, Najib also presented donations to 12 Orang Asli students who excelled in the SPM and STPM examinations last year.
In addition, also receiving appreciation were 12 students of SK Simpai who showed good results at the Pahang Schools Sports Council and Malaysian Schools Sports Council championships.
- Bernama