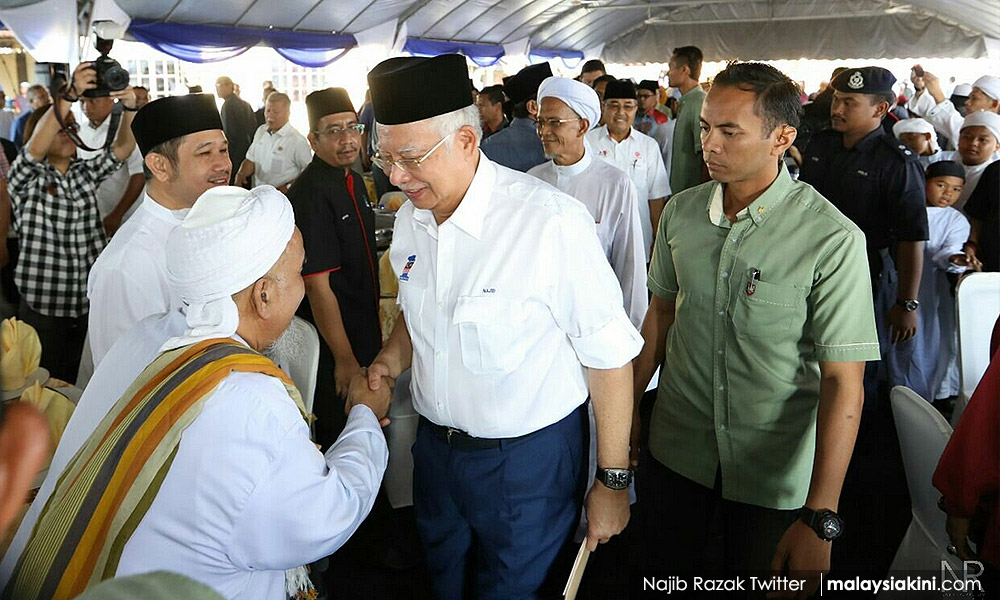 Prime Minister Najib Abdul Razak has extolled his own record of helping rural communities, especially when compared to an "expired leader."
"I have been working long under him, so I know his behaviour.
"I can read it (his behaviour) one by one, he never intended to help the rural people, not that I want to say this, but what I am doing now is far better than that leader," he was reported as saying by Bernama.
While he mentioned no names, it was an obvious jab at his former mentor turned nemesis Dr Mahathir Mohamad.
Najib pointed to the government allocating RM2.7 billion to the Muda Agricultural Development Authority between 2011 to 2020 to develop irrigation systems, allowances for padi farmers, and incentives for fishermen.
"In fact, never in the history of farmers had they received monthly payments of RM200 for three months while waiting for padi harvesting, and even the fishermen also received incentives," he added.
As for Felda settlers, the prime minister said that the government's good ties with China and India to market Malaysia's palm oil products would be to their benefit.
"If China buys RM1.3 billion worth of palm oil, India RM 1 billion, the price of palm oil will continue to rise and who will be happy?
"Certainly the Felda community will, for having more income," he was reported as saying.
Najib also warned settlers that they would stand to lose out if the government were to take heed of Pakatan Harapan's criticism of foreign investment from China.
"…If we hear what the opposition say, we are going to cancel the contract with China and if that is done, then that country will not buy palm oil from Malaysia again.
"If that happens, then the price of palm oil will drop and affect the settlers.
"But under my leadership, the government will continue this struggle and, as such, we must continue to support the BN government," he said while
launching
the "Jimat Belanja Dapur" (Reduce grocery bills) programme in Bandar Dara Chini, Pekan today.
Revenue from Malaysia's palm oil and palm-based exports to China for the first 11 months of 2017 totalled RM8.52 billion, rising from RM7.76 billion over the same period in 2016.
In the wake of the European Union's proposal to ban palm oil from biofuel and renewable energy mixes by 2020, China
pledged
to import more palm oil products from Malaysia in the future.
"We will not set any limit on the import of Malaysian palm oil and related products. There will be no glass ceiling for the import," China's Ambassador to Malaysia Bai Tian said last month.
Plantation Industries and Commodities Minister Mah Siew Keong had also predicted that China will become the largest importer of the commodity by 2020.
At the event, Najib also said that he would carry on the legacy of his father and second prime minister, the late Abdul Razak Hussein, of fighting for the welfare of rural communities.
Najib said that the the Federal Land Development Authority (Felda) and the Federal Agricultural Marketing Authority (Fama) were very close to his father's heart.
"There is no other leader in this country who has the model of a settler's house in front of his own house at Seri Taman.
"Even before he passed away, he had asked that the model of the house be maintained as a reminder to all parties, including myself, that Felda and rural development were the basis of his struggles.
"Hence as the next generation, we are obliged to continue his struggles, I know not only should we pray for his soul, but he also wanted these struggles to remain and not be buried," he was reported as saying. -Mkini