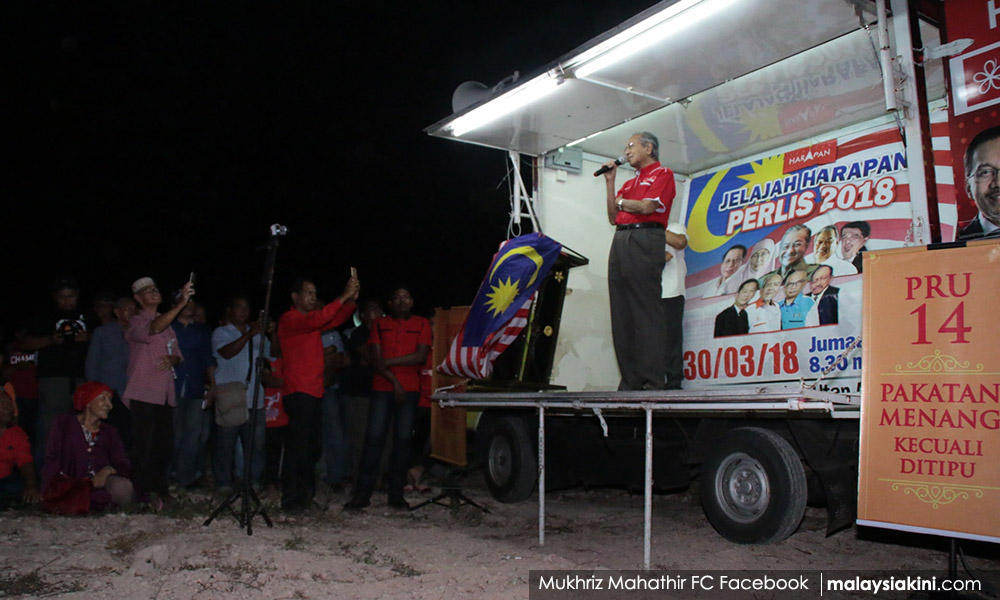 GE14
| Pakatan Harapan has boasted of a turnout of up to 4,000 people for a rally it held last night in Malaysia's smallest state, Perlis.
PKR Indera Kayangan assemblyperson Chan Ming Kai said the turnout for a ceramah held at Gunung Medan Utan Aji, Kangar was a huge difference from the crowds he used to see before the 2013 general election.
"I did a big ceramah in 2013, where we had a crowd of between 2,000 to 3,000. But it was a Chinese-majority crowd.
"(This time) on top of the Chinese crowd, there were many Malays too," he said.
Among the speakers at last night's talk was former premier Dr Mahahthir Mohamad, who is also Harapan chairperson.
The positive turnout in Perlis followed a
mammoth crowd
for a ceramah Guar Chempedak, Kedah on Thursday night.
DAP lawmaker Liew Chin Tong, who estimated a 15,000 turnout, said the ceramah in Kedah signalled an impending Malay tsunami in favour of the coalition against BN in the upcoming general election.
Analyst Redzuan Othman, however,
cautioned
that big crowds would not necessarily translate into votes.
Redzuan cited how thousands used to turn up for rallies during the Reformasi movement, but which only saw PKR win just five parliamentary seats in 1999. -Mkini