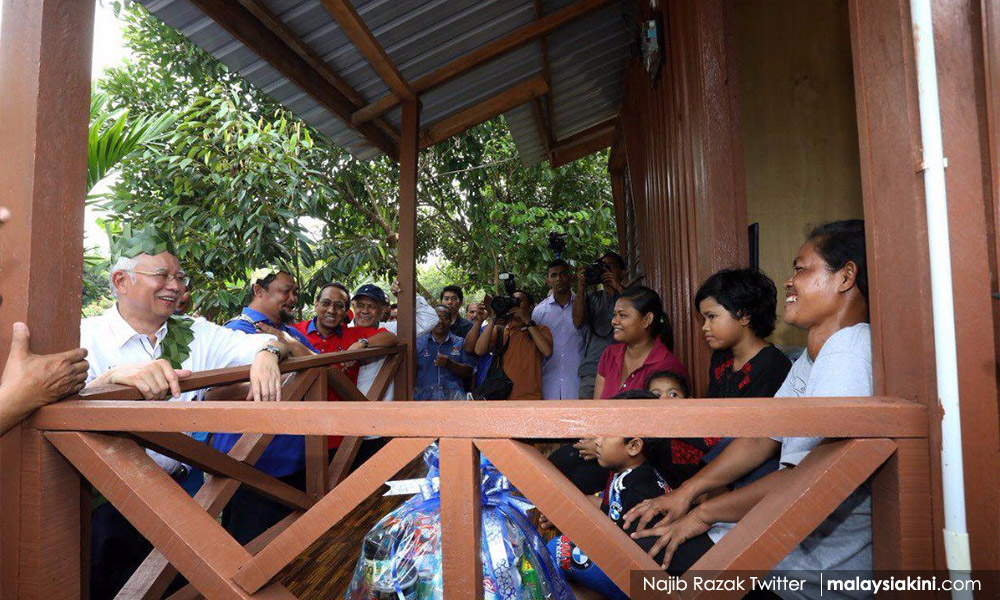 The BN government is the only government that is concerned and sensitive to the needs of the Orang Asli, according to Prime Minister Najib Abdul Razak.
He said various programmes were implemented specifically to advance the Orang Asli, because the government wanted them to progress along other communities in the country.
The implementation of such programmes, he said, took into consideration the uniqueness, needs, mentality and values of the Orang Asli as the government was aware that this community has its own challenges that needed to be addressed.
"I believe that if we want to lean or find shelter, it must be under a strong and firm tree, namely BN. We cannot cling to old or broken branches.
"During times of hardship, who helped, came to visit and asked about their well-being? Is it not the BN leaders since before until now?" he said in his speech during a visit and meeting with the Pekan Orang Asli community in SK Simpai here today.
Also present were Pahang State Assembly speaker Ishak Muhammad, senator Isa Ab Hamid, Pahang Orang Asli Development Department director Johari Alwi, and Tenaga Nasional Berhad (TNB) CEO Azman Mohd.
Najib said he hoped the Orang Asli would not be swayed by the opposition's empty promises, which he said only appeared when the general election was approaching nearer.
He said the matter was different from the approach of the BN which had a good track record for always fulfilling the promises pledged.
In his speech, he also referred to the success of various projects implemented by the BN so far for the well-being of the Orang Asli community, which according to the Rural and Regional Development Ministry data, has 853 Orang Asli settlements registered in Peninsular Malaysia.
Of these, 720 villages had access roads, electricity (660 villages), water supply (701 villages), hard core people's housing project (18,763 houses), he said.
- Bernama