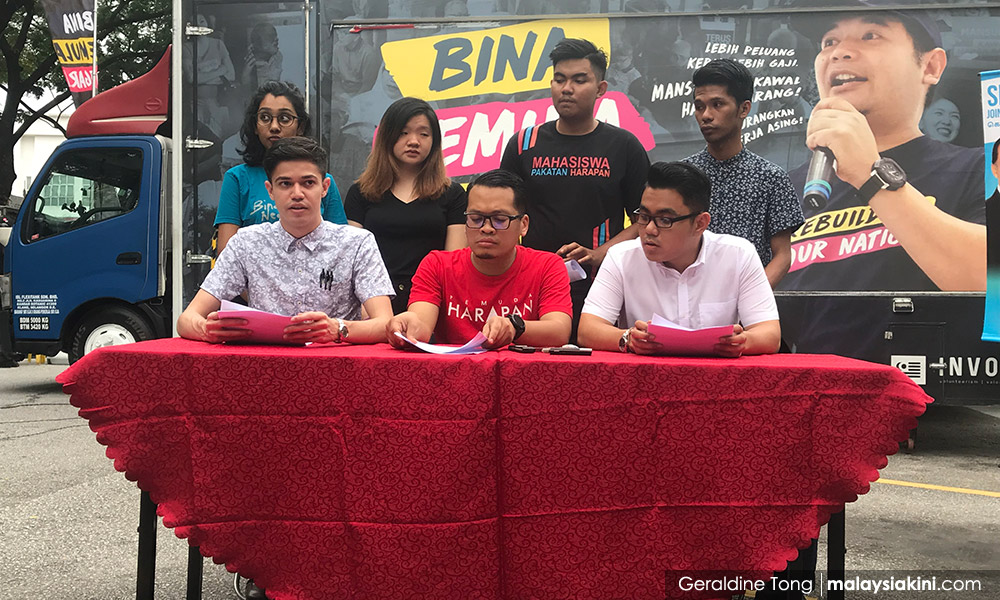 Mahasiswa Pakatan Harapan has challenged Higher Education Minister Idris Jusoh or his representative to a debate on the political freedom of university students.
The challenge comes after Idris remarked that students were free to
participate
in political activities outside of campus, a statement which the student group denounced as "sweet talk" that did not reflect reality.
Newly-minted Mahasiswa Pakatan Harapan chairperson Na'im Brundage highlighted the 15 university students who received disciplinary punishment for attending the "Tangkap MO1" rally at the Dataran Merdeka in 2016.
"The action taken against these 15 university students show clearly that university students are still not free to get actively involved in politics even though those activities were outside of campus," he told a press conference in Kuala Lumpur today.
If Idris was truly serious, Na'im said, the minister should ensure universities under his jurisdiction do not take arbitrary disciplinary action against students who were merely exercising their rights to speak out and to gather.
"Idris Jusoh as an alumnus of several international universities should understand better the importance of university students' freedom to be political, voice out and gather in order to develop human capital for the benefit of the country.
"We welcome a healthy discussion on this matter between the ministry and university students.
"That is why, we would suggest a representative from the Higher Education Ministry debate us on this issue," he said.
He pointed out that in renowned international universities, such as Harvard, Stanford, Yale and Columbia University, there is a rich political and activist ecosystem.
Malaysiakini
has contacted Idris' aide for a response to the debate challenge.
Separately, Mahasiswa Pakatan Harapan also announced that they will launch a roadshow titled "Jelajah Siswa Gelombang PRU" to expand their chapters throughout peninsula Malaysia.
They invited all interested university students to join them in the roadshow, which will last until the 14th general election. Mkini