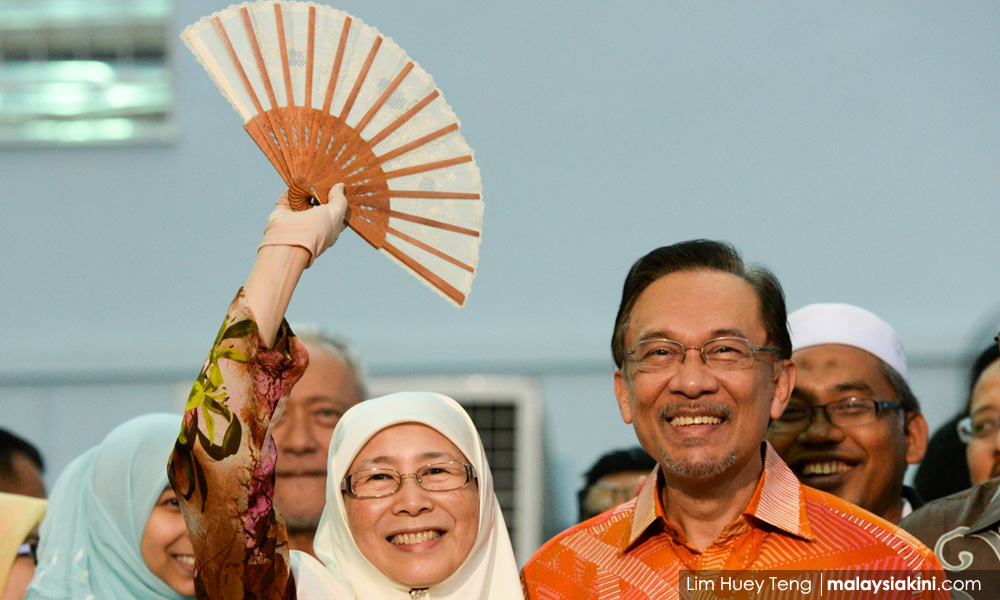 PD POLLS | Previously recognised as the best finance minister is proof that Anwar Ibrahim is the best candidate for the voters in the by-election for the Port Dickson parliamentary constituency, said PKR president Dr Wan Azizah Wan Ismail.
Wan Azizah, who is also the deputy prime minister, said the voters here should vote for Anwar based on his contribution and services when he was holding the finance portfolio as a cabinet minister then.
"Previously what did Anwar Ibrahim do...he (Anwar) had done a lot to the extent that as the finance minister, he was the best then.
"Can't the Port Dickson voters accept a candidate who had previously brought glory to the nation...give him an opportunity to continue to contribute to the people and return to national politics?" she asked in her speech when officiating the PKR main operations room for the Port Dickson by-election, in Port Dickson last night.
Besides Anwar, others present were PKR secretary-general and Minister of Domestic Trade and Consumer Affairs Saifuddin Nasution and Negeri Sembilan Menteri Besar Aminuddin Harun.
Wan Azizah said Anwar's desire to serve the people was among the reasons that the PKR de facto leader chose to contest the Port Dickson parliamentary seat.
With a few hours left before the opening of nominations for candidates, five individuals had so far confirmed that they were challenging Anwar for the seat including PAS candidate - retired Royal Malaysian Air Force Lt. Col. Mohd Nazari Mokhtar and several independent candidates including former Negeri Sembilan menteri besar Isa Abdul Samad and former personal assistant to Anwar, Mohd Saiful Bukhari Azlan.
The Port Dickson parliamentary by-election attracted public attention as it was said that there would be a five-cornered fight although Barisan Nasional was boycotting the contest by not fielding a candidate.
The Election Commission had fixed Oct 9 as the day for early voting while Oct 13 is the polling day for the by-election.
The Port Dickson parliamentary seat was vacated by incumbent Danyal Balagopal Abdullah, 68, on Sept 12 to make way for Anwar, who recently won the post of PKR president uncontested, to enable him to stand for election and return to the Dewan Rakyat.
The Port Dickson parliamentary constituency has been a PKR stronghold since 2008 and has five state legislative assembly constituencies, namely Chuah and Lukut, both held by the DAP, Bagan Pinang and Linggi (BN) and Sri Tanjung (PKR).
- Bernama