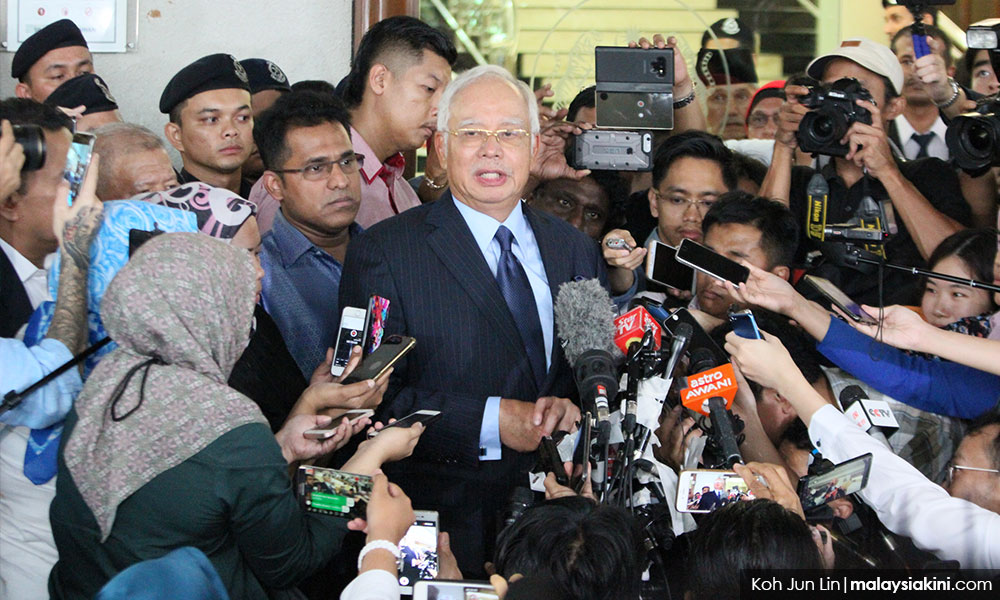 Former premier Najib Abdul Razak said neither Umno nor him are accusing the police of theft with regard to the cash seized from the units in Pavilion Residence.
However, he declined to comment further when asked about federal commercial crimes investigation department (CCID) director Amar Singh's statement that Najib failed to substantiate or explain his claim in a police report that a total of RM160 million was seized during the raids.
Initially, the police had stated that the cash amounted to RM114 million, but it was subsequently revised to RM116.7 million.
"I decline to comment further as the matter is already in court with the details contained in the writ filed by Umno. Let the courts proceed with the hearings.
"Neither Umno nor I are not accusing any parties, especially the police of theft, although it was recently reported that RM3.5 million was stolen during the transfer of the party funds from the safes at the PMO (Prime Minister's Office) to Pavilion," Najib told Malaysiakini.
Seventeen security personnel under investigation for allegedly stealing the RM3.5 million from the PMO have since been released on bail.
Last week, Umno had filed a writ of summons in the High Court, claiming RM43.3 million in losses from the police force.
The party alleged that the amount went missing during the police raids.
Malaysiakini had sighted the writ, which, among others, said: "Umno empowers the president to source and manage political funds/donations for Umno for the purposes of, inter alia, general elections ('election funds'). These election funds are held in trust by the president of Umno for Umno. Other than the president, no officials or members in Umno have access or full knowledge of the election funds. The remnants of the election funds together with other assets would be handed over by the outgoing president of Umno to the incoming president of Umno."
The writ also focussed on Amar citing different figures with regard to the amount seized during the raids, which both Najib and Umno claims belong to the party.
"On 17.5.2018, the first defendant (CCID officer Mohd Shakri Arifin) conducted search and seizure on the premises with a team from RMP (police). The plaintiff contends that during a press conference on 25.5.2018, it was announced by the third defendant (Amar) that among others, the cash sum of RM114,000,000, was seized by the raiding team from the premises.
"The plaintiff further contends that during yet another press conference on 28.6.2018, it was announced by the third defendant (Amar) that the amount seized was RM116,700,000,000 and not RM114,000,000. The significance of the differences in the amount between RM114,000,000 and RM116,700,000,000 would be reflective of the cavalier and illegal manner the defendants had undertaken the search, especially when compared with the true amount of RM160,000,000 meant to be present in the premises," it read.
Earlier, Amar denied the allegation by blogger Raja Petra Kamaruddin that the police had stolen the RM43.3 million. - Mkini