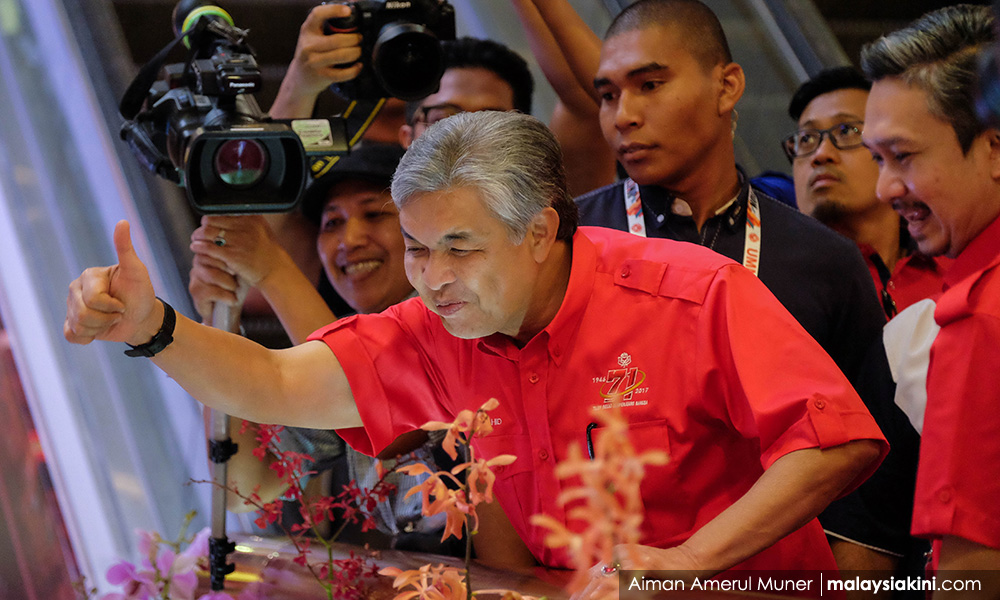 UMNO AGM
| With the party dogged by defections, Umno president Ahmad Zahid Hamidi today called on members to remain patient as they will soon be a hot commodity with the Pakatan Harapan government.
Zahid said Harapan could easily implode due to infighting, which could put the federal government in jeopardy.
"This instability puts the government in a fragile position and can be dissolved at any time.
"In such a situation, who will they look for? This is where the value of Umno members lie.
"So don't get any ideas about quitting," he said in his opening speech at the party's annual general assembly in the Putra World Trade Centre in Kuala Lumpur tonight.
Zahid had previously said that he would be open to forming a unity government with any Harapan party.
Umno Youth delegates appear to be uneasy with Zahid's plans, following the lead of Youth chief Asyraf Wajdi Dusuki, who objected to
backdoor attempts
to return to power.
'We need to stick together'
In his speech, Zahid also stressed that opposition parties need to stick together, especially BN component parties MCA, MIC MyPPP and Parti Bersatu Rakyat Sabah.
However, he said Umno will continue working with others in the opposition on common issues, without being tied down by any formal alliance.
Besides wishing to see Umno forming a unity government with Harapan, Zahid is actively encouraging cooperation with PAS.