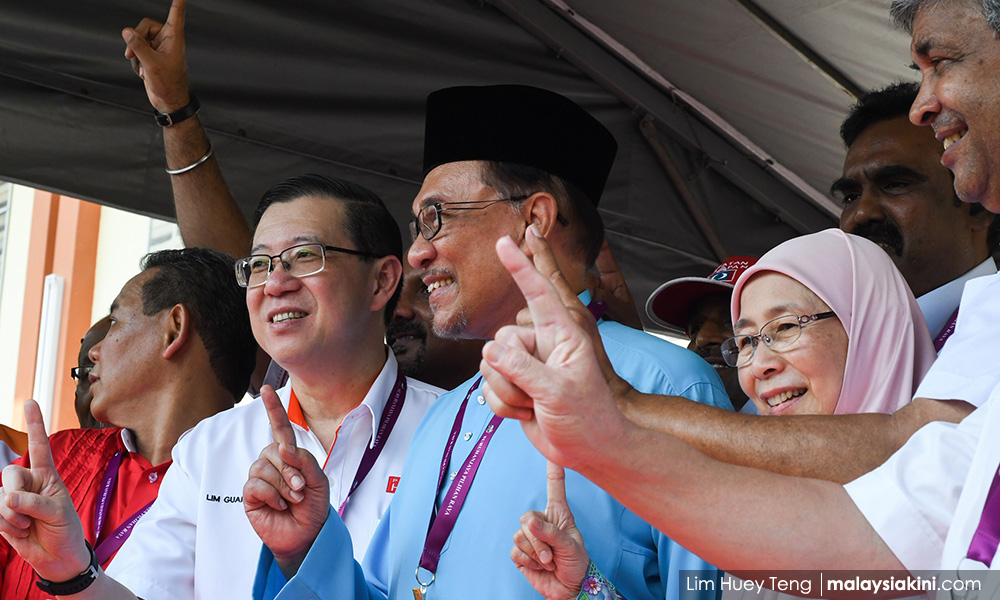 PD POLLS
| PKR president-elect Anwar Ibrahim, fresh from his nomination as a candidate for the
Port Dickson by-election
, will head straight to BN-controlled state constituencies in his first night on the ceramah circuit.
Despite PKR scoring a comfortable win in Port Dickson comfortably in the last general election, it lost two of the five state constituencies under it to BN, namely
Linggi
and
Bagan Pinang
. The other three state seats under Pakatan Harapan control are
Chuah
(PKR),
Lukut
(DAP) and
Sri Tanjung
(PKR).
According to Anwar's schedule, he will be holding two ceramahs tonight, one in Linggi and another in Bagan Pinang.
Even though BN is sitting out of the by-election, local warlord Mohd Isa Samad – an Umno member until last Tuesday – is contesting against Anwar as an independent.
Isa was the Linggi assemblyperson for five terms, from 1978 to 2004, and also served as Negeri Sembilan menteri besar for 22 years until 2004.
He also contested in the 2009 Bagan Pinang by-election, which he won by a landslide.
Anwar's ceramah at Pasir Panjang in Linggi will largely feature PKR and DAP leaders, including all three Harapan state assemblypersons – Yek Diew Ching (Chuah), M Ravi (Sri Tanjung) and Choo Ken Hwa (Lukut).
Anwar's wife, outgoing PKR president and Deputy Prime Minister Dr Wan Azizah Wan Ismail, will also be present at the event.
The ceramah at Bagan Pinang, meanwhile, will largely feature Bersatu Kuala Pilah MP and Deputy Communications and Multimedia Minister Eddin Syazlee Bin Shith.
Negeri Sembilan menteri besar Aminuddin Harun will also be present at both events.
The Port Dickson by-election will see a seven-cornered fight.
The other five candidates comprise Mohd Nazari Mokhtar of PAS, along with independent candidates Mohd Saiful Bukhari Azlan, Stevie Chan, Kan Chee Yuen and Lau Seck Yan.
Polling day will take place on Oct 13. - Mkini