An Umno delegate said today that she would be willing to accept PKR president-elect Anwar Ibrahim as the next prime minister if a unity government were to be formed comprising Umno, PAS and PKR.
Speaking on condition of anonymity, the delegate told Malaysiakini that if this were to come to pass, Anwar would make an ideal candidate for prime minister due to his seniority and experience.
"Anwar can be the prime minister, and maybe he appoint two deputy prime ministers, one from PAS and one from Umno," she said.
The Pendang division delegate added that this could be arranged as Umno president Ahmad Zahid Hamidi himself was known as an Anwar loyalist in the 1990s.
"Anwar is the leader that can oust Mahathir," she said when met at the assemblies for the Umno wings held at the Putra World Trade Centre, Kuala Lumpur.
A number of Umno MPs had reportedly
endorsed
Zahid's pursuit of a possible pact between other parties with the express purpose of moving out of the opposition bench.
Zahid, who had previously pledged to work with PAS, said Umno was prepared to work with any party – including from Pakatan Harapan – to chart its return to Putrajaya.
Yes to PKR, no to Bersatu
The majority of delegates reject the idea of Umno forging an alliance with Bersatu, because its chairperson Dr Mahathir Mohamad had brought about the downfall of former president Najib Abdul Razak by way of slander.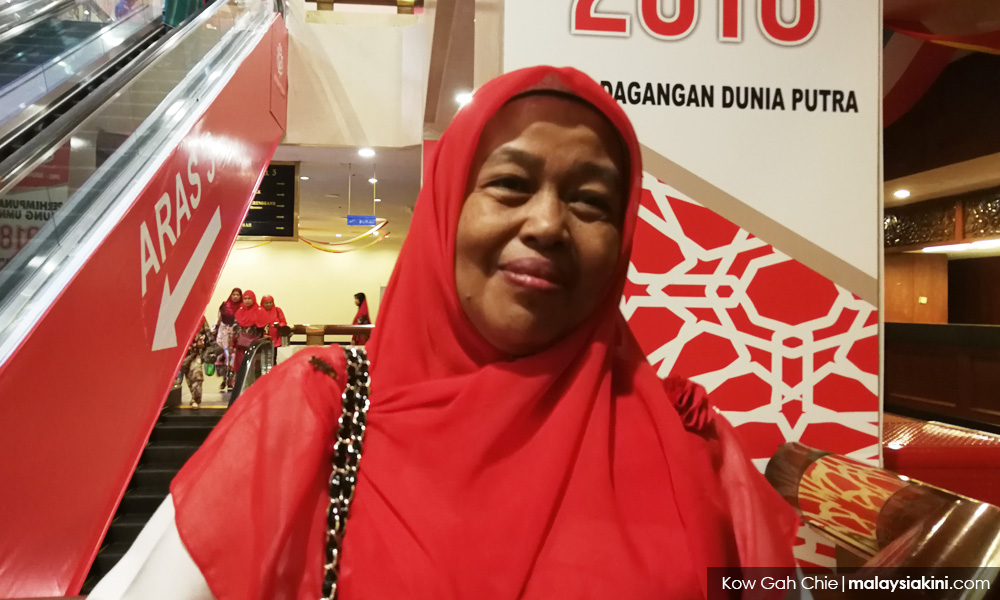 To Cheras Wanita Umno's Wan Rokiah Wan Din (photo), PKR is a better fit as a partner for Umno than Mahathir's Bersatu.
"I dislike Mahathir, as he split the races after he returned to the premiership this year, and he was the one who slapped Najib with 25 charges in court. I feel that Najib is innocent, he was slandered," she said.
"But Anwar has never said a (bad) thing about Umno. The recent chaos in the PKR election has nothing to do with Anwar, it was done by the party grassroots members," she said.
Wan Rokiah pointed out that she would accept either of Zahid or Anwar as the next prime minister.
'Work with PAS, PKR'
Nurasyikin Shaari, a 33-year-old delegate from Setiawangsa Umno, was similarly open to the prospect of a unity government with PAS and PKR.
Though stressing that it is still too early to say who will be the next prime minister if an alliance is formed, she maintained that she had no issue with the party returning to power before the 15th general election.
Nurasyikin also denied that Umno has lost its way, since it had set a clear direction of returning to power via a unity government.
Seputeh Division chief Mohd Razlan Rafii, meanwhile, believes a unity government between PAS and Umno can be formed at the right time, namely when Umno regains the confidence of the public.
Umno needs to rectify its problems and clean its image first, he said, or run the risk of being seen as rushing into a unity government with PAS.
"When the people accept us, I think PKR, DAP and any other party will fall," he said.
MKINI