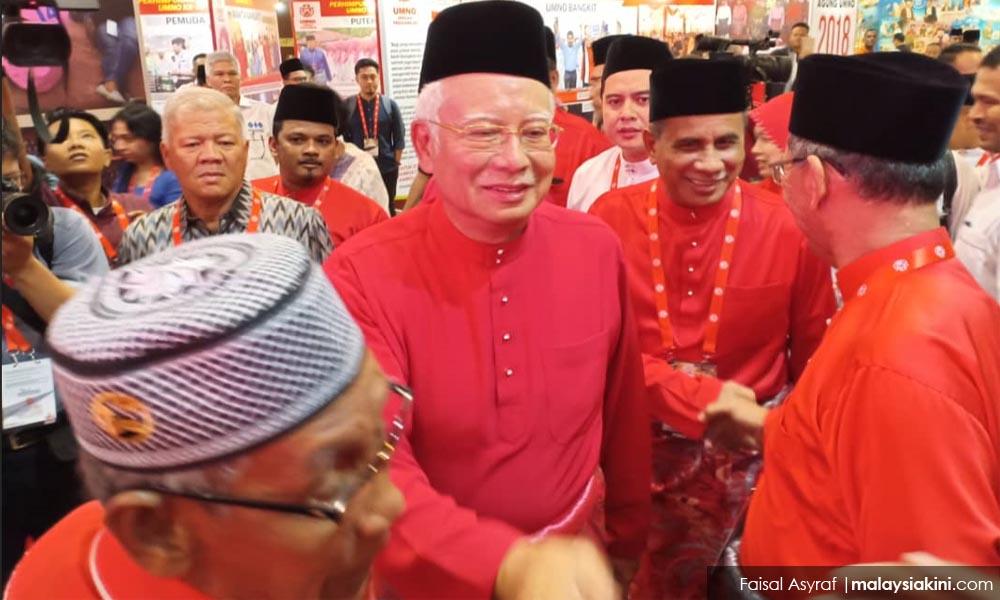 UMNO AGM
| Despite Umno's historic loss in the last general election being commonly pinned on Najib Abdul Razak, the former president surprisingly received a warm welcome when he made an appearance at the party's annual general assembly last night.
Najib even received a standing ovation from Umno delegates when his name was read out at the opening of the assembly.
The reception stood in stark contrast to Umno secretary-general saying just last month that the party would not defend the "
baggage
" of Najib's involvement in the 1MDB scandal.
At the assembly today, an Umno supreme council member and former cabinet minister who spoke to
Malaysiakini
on condition of anonymity says this could be attributable to Malays believing in the notion of 'innocent until proven guilty.'
"Malays are very straightforward, they really don't understand complicated issues like 1MDB and the RM2.6 billion donation, what more when such a leader (who is implicated in the scandal) still walks free outside.
"He continues justifying his innocence to the rakyat, that he is a victim of political assassination. The Malay always believe in 'innocent until proven guilty'," claimed the Umno leader.
"The same thing happened to PKR de facto leader Anwar Ibrahim when he was first charged for sodomy.
"The majority of Malays didn't believe Dr Mahathir Mohamad at that time. It took years for them to believe (the accusations)," he said.
This makes it critical for the Pakatan Harapan government to prove Najib's guilt, added the Umno leader.
"Politic is all about winning the perception of the rakyat, it is not about right or wrong," he said.