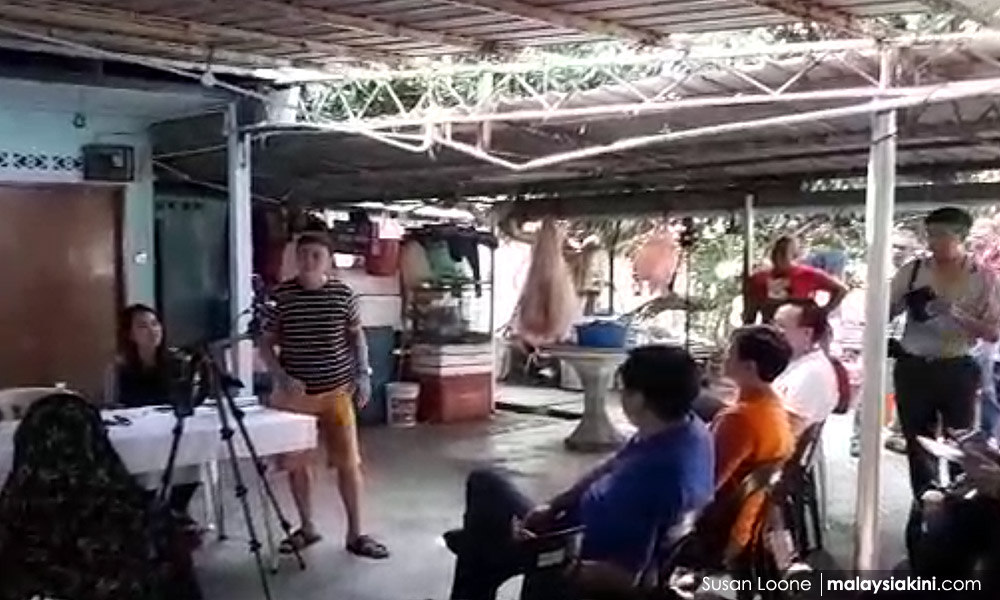 GE14
| A local fisherman from Tanjong Tokong told a group of hopeful candidates today to try a hand at his job before understanding the community's plight.
"I am thankful that so many candidates are here today but be a fisherman for one day.
"You will pity the fishes," said Roland Tan, who spoke at a press conference held by a group of fishermen from Tanjong Tokong, Paramount, and Gurney Drive.
Tan was speaking at the event for those like him who felt the brunt of the reclamation activities along the coast.
Candidates for
Pulau Tikus
, Johnny Wee Kean Wai (Parti Bersama Malaysia) and Jason Loo (BN), were present at the event.
"Caretaker chief minister Lim Guan Eng said we are different, we are poor but when you go and meet them, they do a magic show," said Tan, drawing laughter from the audience.
"It's all politics and we too have learned how to (play) politics," he added.
Tan urged the authorities to provide enough compensation to the fisher folks affected by the reclamation.
"We ask for RM200,000 so that we can get new boats or repair our engines. Do you think we want to be fishermen for life? Give us proper compensation and we can live comfortably."
Teng said BN will review the reclamation project if they come to power at May 9 polls.
"We will make sure that everything is done according to guidelines," he added.
Former Pulau Tikus assemblyperson Yap Soo Huey said her former office, and the state government, have engaged the community several times.
However, she found the information gathered from the fishermen "inconsistent".
"Today, someone will say something, then at another time, another representative will say something different," said Yap, who will be furthering her studies in the US in August.
"We have provided RM15,000 to those affected by the reclamation. It is the biggest amount of compensation compared to other states. If anyone has a higher figure, you may alert us about it," she stressed.
Earlier, Nelayan Generasi Baru spokesperson Syahifah Hawa Zamzuri listed down 11 demands including recognition, justice, safety and sustainable environment, for the GE candidates to endorse should they be elected. - Mkini