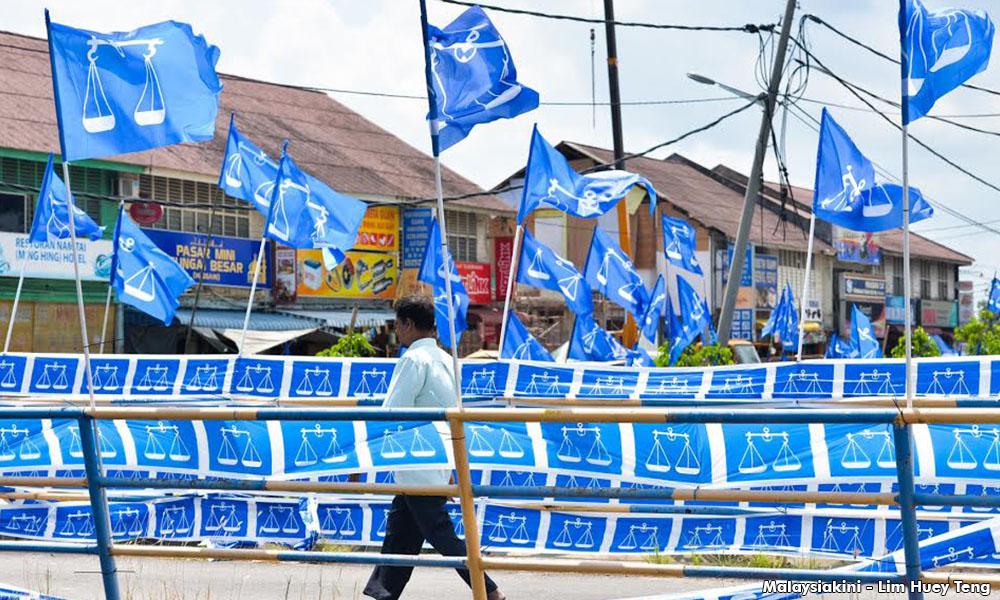 GE14
| BN's support among Malays has been waning in recent months, although it still commands higher support than Pakatan Harapan or PAS, according to a recent survey by Invoke Malaysia.
The pollster's head, Rafizi Ramli, said that the downtrend in Malay support for BN corresponded with an increase in voters from the community who were undecided or declined to state their voting preference.
As of April 18, Invoke Malaysia's survey suggested that Malay respondents who overtly stated their preference for BN stood at 18.1 percent, down from 41.1 percent last December.
Malay respondents who preferred Harapan or PAS are tied at 15 percent, while 50.7 percent were described as "fence sitters," who were either undecided or refused to disclose their preference.
'Hidden' Harapan supporters
According to Rafizi, data on the "hidden" Harapan supporters among these "fence sitters" were elicited by subjecting them, along with BN and PAS supporters, to additional profiling questions.
For instance, these three groups were asked if they preferred BN chief Najib Abdul Razak remained as caretaker prime minister, of which only 23.7 percent agreed.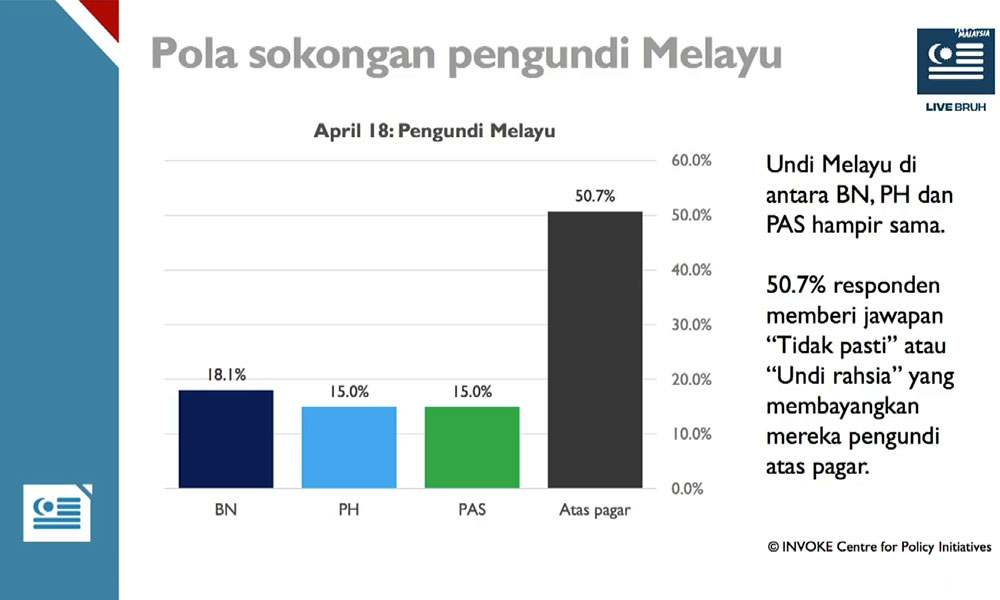 Other questions posed included "Which party will win in your constituency?" and "Who do you prefer as PM?"
Taken together, Rafizi said at least 7.5 percent of respondents claiming to be "fence sitters" were actually Harapan supporters, while the "hidden" BN and PAS supporters in this group were negligible.
In view of this, Invoke Malaysia had concluded that a realistic estimation of Harapan's actual Malay support stood at about 22 percent, against BN's 25 percent, which were both significantly higher the number of PAS supporters.
"(In conclusion,) the prospect of Harapan overtaking BN's Malay support is becoming more real as we get nearer to the general election," said Rafizi.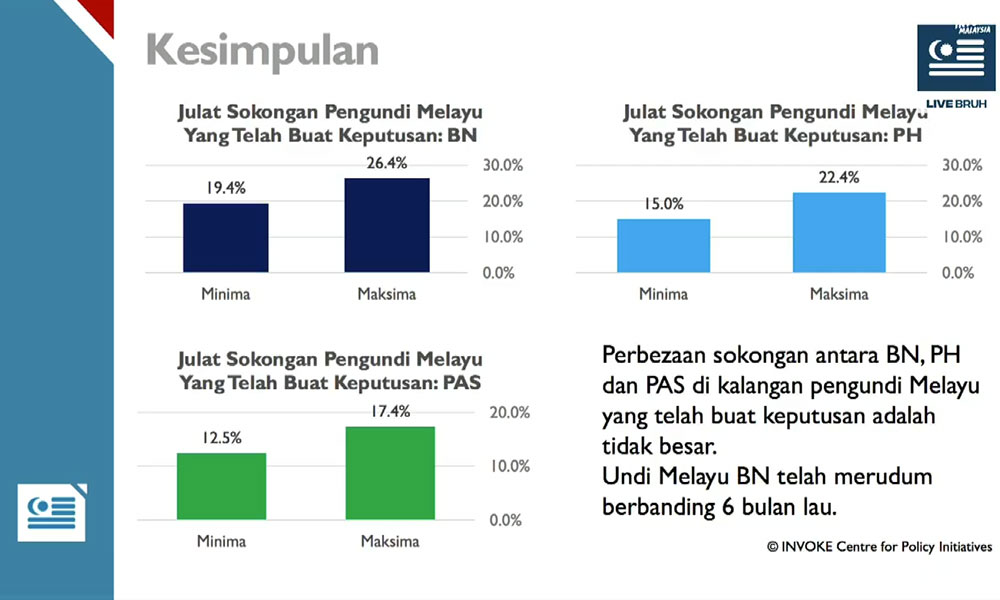 Nearly half believe BN will fall
Overall, when other ethnic groups are taken into account, Rafizi said 29 percent of respondents preferred Dr Mahathir Mohamad as prime minister, while 23.8 percent preferred Najib.
PAS president Abdul Hadi Awang was the prime ministerial choice of 10.4 percent of respondents, while 35.9 percent responded with "none of the above."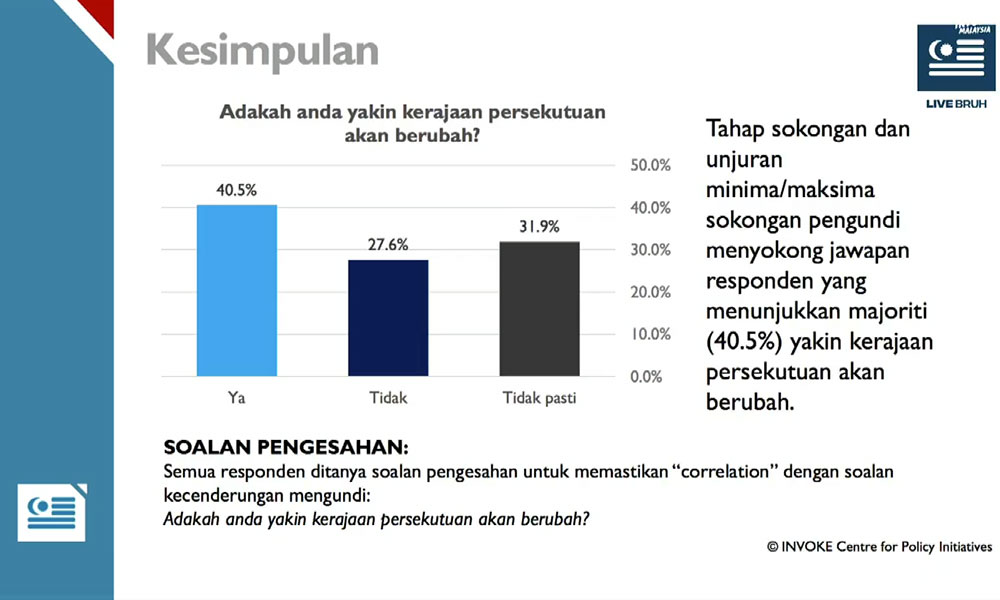 When all the respondents were asked if they were confident that there will be a change in government, 40.5 percent replied in the affirmative, while 27.6 percent disagreed and 31.9 percent said they were unsure.
Rafizi remarked that "there is a strong correlation on the choice of PM and the respondent's voting tendency."
The telephone survey, which involved 1,961 verified voters selected through random stratified sampling, was conducted after the dissolution of Parliament.
For contrast, Merdeka Centre's survey had predicted a
significant swing
in Malay votes away from BN, but opined that the swing was not big enough for the ruling coalition to fall.
However, their data showed that BN and Harapan were virtually
neck and neck
in terms support in Johor, the birthplace of Umno. -Mkini