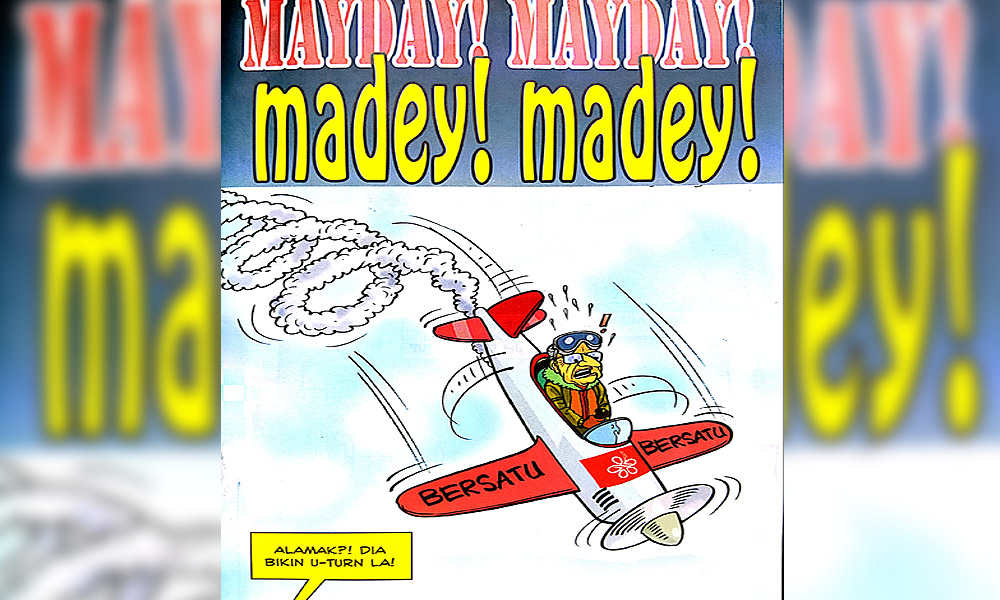 GE14
| A comic book lampooning Dr Mahathir Mohamad and his Pakatan Harapan leaders is being distributed by some BN campaigners in Alor Setar.
Stacks of the book were sighted on an unattended counter just outside Dewan Seri Mentaloon yesterday, alongside more conventional election campaign materials, like t-shirts and button pins.
The hall is part of the Kedah menteri besar's official residence. The caretaker MB Ahmad Bashah Md Hanipah was hosting a tea reception there with members of the press at the time.
The 20-page comic book is titled "Mayday! Mayday! Madey! Madey!" with "Madey" being a term sometimes used to refer to the Harapan leader.
The cover also featured a character bearing Mahathir's likeness who is piloting a plane labelled "Bersatu" that is spiralling out of control. A speech bubble coming from the group below reads, "Oh dear! He is making a U-turn again!"
Apart from the former premier, book also depicted the likenesses of other Harapan leaders such as Bersatu president Muhyiddin Yassin, Amanah president Mohamad Sabu, DAP supremo Lim Kit Siang, PKR president Dr Wan Azizah Wan Ismail, as well as Mahathir's son, Bersatu vice-president Mukhriz Mahathir.
Most of the scenes in the comic depicted Harapan leaders either using, backstabbing, or scheming against one other – all while putting on a facade of unity against BN.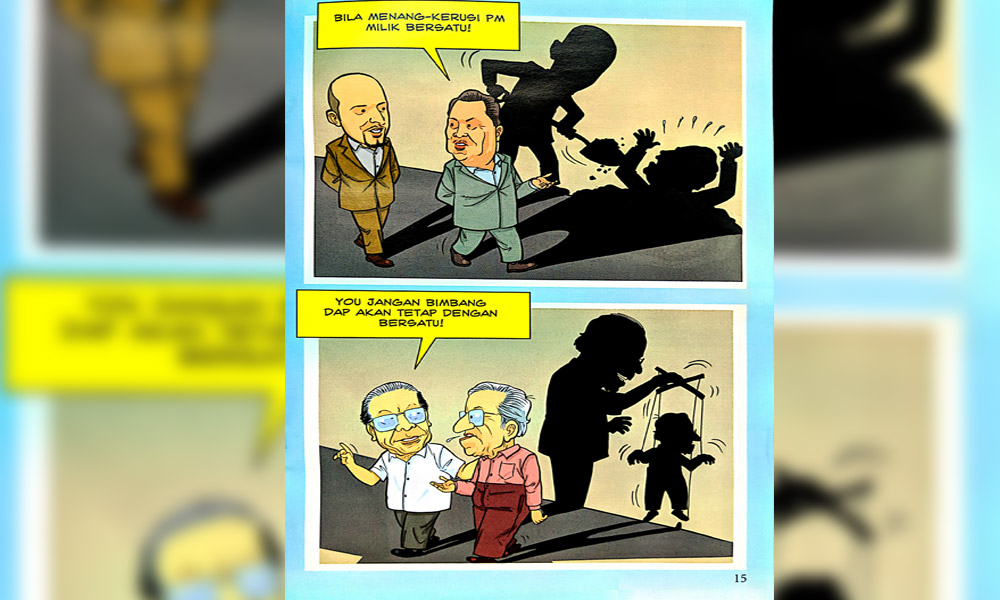 For example, one scene shows Lim shaking hands with Mahathir saying that DAP would support Mahathir in setting up a new party. A thought bubble above Lim, however, reads, "Split the Malays!"
Another scene shows Mahathir whispering to Mukhriz behind Muhyiddin's back, saying, "Don't worry, let him have it first. He's already old; not much time left."
Yet another scene shows Mahathir walking with a "Free Anwar" badge pinned to his shirt. An accompanying text reads "Before: Father of Modernisation. Now: Father of U-Turns."
The back cover of the book states that it is published by a group dubbed Pertubuhan Anak Melayu Tak Pernah Lupa – Penginga" (Society of Malays who never forget).
However, this is more likely to be a play on Mahathir's 2001 poem 'Melayu Mudah Lupa' (Malays are forgetful) rather than an actual organisation.
Accordingly, a search of the Registrar of Society's (ROS) database did not turn up any matches, and an internet search was similarly futile. While some NGOs do register with the Companies Commission instead, these would not be allowed to use the word 'pertubuhan' in their name.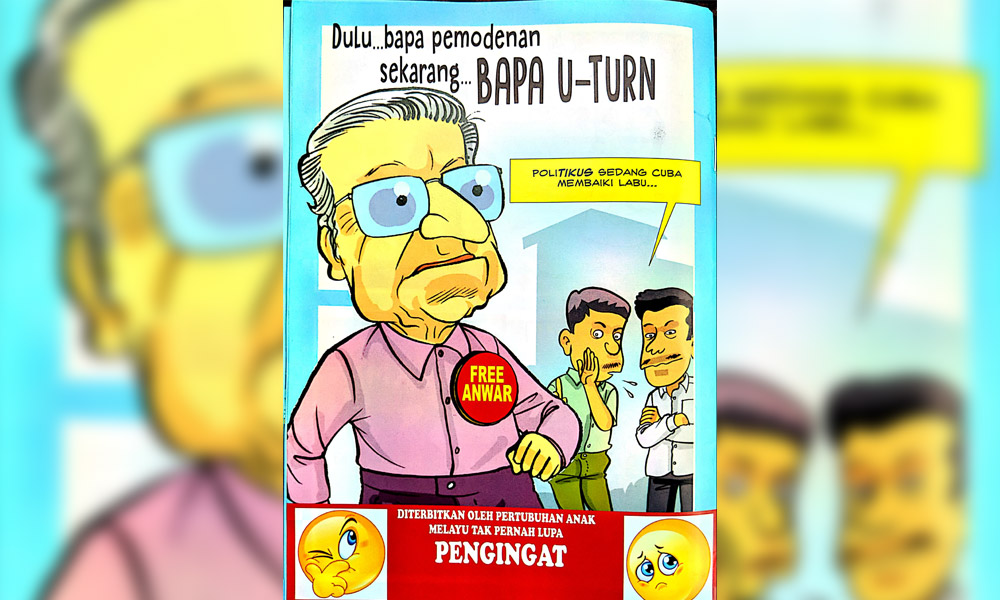 The book does not contain any contact information including that of its publisher, nor does it contain any information about its printer. There is also no indication on when it was published.
When asked about the provenance of the book at the tea reception, Bashah told Malaysiakini that he knows nothing about the book and is only seeing it for the first time.
"This is sent from KL. Who sent it, I don't know. Maybe (KL) lah. I don't know," he said as he browsed a copy of the comic.
"Alright. Let the people read it. Whether they accept it or not, it is up to them. It's an election, these things do turn up," he said after flipping through a few more pages.
He admitted the campaign materials at the counter are for BN campaigners to pick up campaign materials to wear themselves and to distribute to others, particularly Umno youth's campaigners.
He reiterated that he does not know where the comic came from and said he doesn't know whether Umno youth will be distributing it.
The next morning, copies of the comic were seen to be distributed at the 'Jualan Harga Runtuh'
event
organised by Alor Setar Umno at the Pertubuhan Peladang Kawasan Tun Adam Malik complex.
A booth was set up at the event for BN campaigners to distribute their campaign materials, which included the comic book.
The other leaflets distributed include those promoting Kedah BN's election manifesto and
Alor Setar
BN candidate Yoo Wei How, who was present at the event. -Mkini