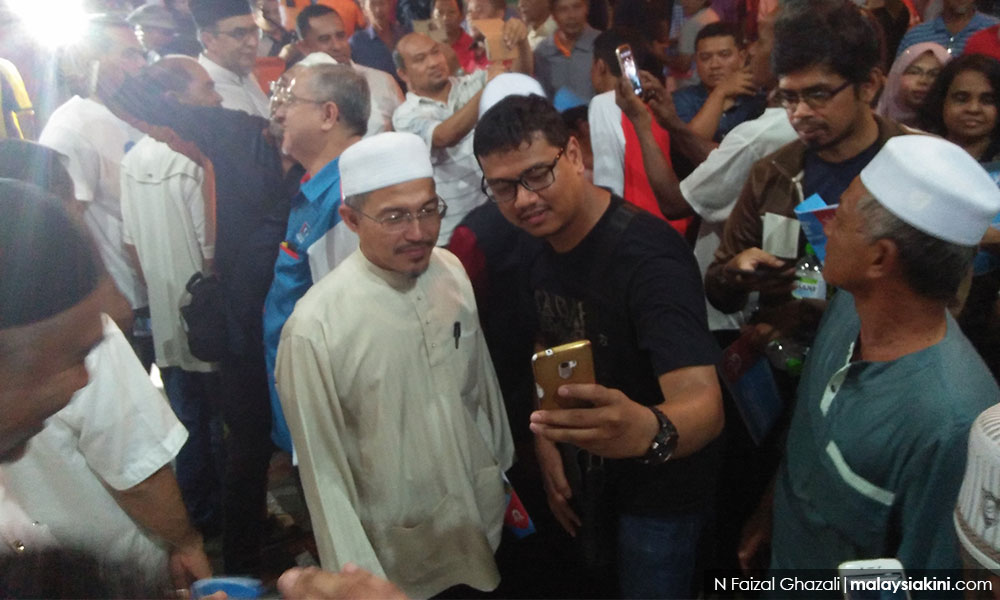 GE14
| The late PAS spiritual leader Nik Aziz Nik Mat has always considered Kelantan Pakatan Harapan chairperson Husam Musa as his favourite son, said Chempaka candidate Nik Omar Nik Aziz.
Nik Aziz' second son and Harapan's new recruit for the Kelantan state seat said this can be seen by how his late father, fondly known as tok guru, has always been close to Husam.
"Actually from what we've seen, tok guru has in the past openly said Husam was sent by Allah not just for the sake of Kelantan, but also Malaysia. This is proof.
"And we can see how much Husam's presence has benefitted (Kelantan), from aspects of finance, economy," he said after unveiling Kelantan Harapan's manifesto in Kota Bharu last night.
He was responding to questions of his sudden decision to contest under Harapan and abandon PAS.
His nomination yesterday as a Harapan candidate infuriated PAS, which promptly
sacked
him from the party and claimed he had "insulted" the political stand of his revered father, the late Kelantan menteri besar.
PAS has been attacking Husam for questioning the Kelantan government on several issues including alleged illegal logging, before finally
expelling
him from the party last year.
Nik Omar explaining his departure from PAS, said it was only possible to ensure better governance of the country through Harapan.
"I respect all, even Umno I respect. Therefore, whoever wants to still vote for Umno, feel free, if one feels that is best.
"But for me, I see how leaders such as former prime minister Dr Mahathir Mohamad see the need to make improvements in the country.
"I also see how magnanimous (PKR de facto leader) Anwar Ibrahim, one who has the most right to be angry and vengeful (towards Mahathir), has been, to show such a big heart (in forgiving his former nemesis)," he said.
Present at the event was Anwar's wife and PKR president Dr Wan Azizah Wan Ismail. - Mkini