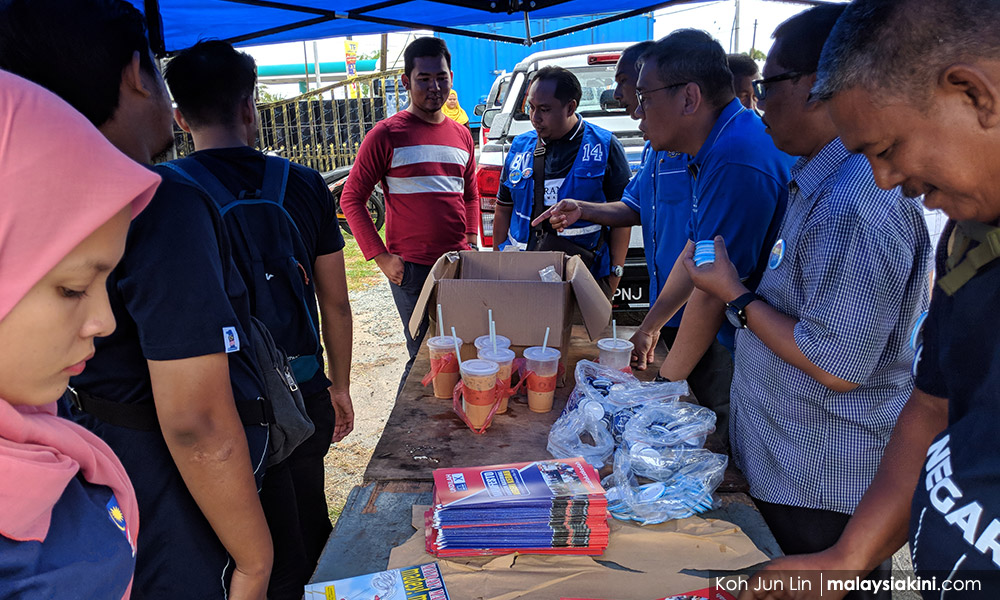 GE14
| Shoppers browsing for discounted groceries at the 'Jualan Harga Runtuh' are singing the praises for the programme organised by the Alor Setar Umno division.
However, most shoppers interviewed by Malaysiakini said the programme is not something that would sway votes, while the rest were either coy on the matter, or believed that it would have an influence.
Some also expressed concern that the sale is merely a temporary measure for the election season, whereas the rising cost of living is an ongoing concern.
"If it is held once a week, that will be good. Or even twice a week. But perhaps it is being held because it is near the election and it will be no more after that. Perhaps," said 64-year old pensioner Ghazali Taib.
He was speaking to Malaysiakini at the Jualan Harga Runtuh event at the Pertubuhan Peladang Kawasan Tun Adam Malik complex this morning, which is part of the Tandop polling district in Alor Setar.
The polling district casted 556 votes for BN and 445 votes for PKR during the last general election, when it was part of the
Pengkalan Kundor
state constituency in the
Kuala Kedah
parliamentary constituency.
Unlike other shoppers, who said they came to the sale because they each heard about it from their friends, Ghazali said he had been contacted by Umno directly.
Asked if the discounted goods would sway his vote, Ghazali said that it would not.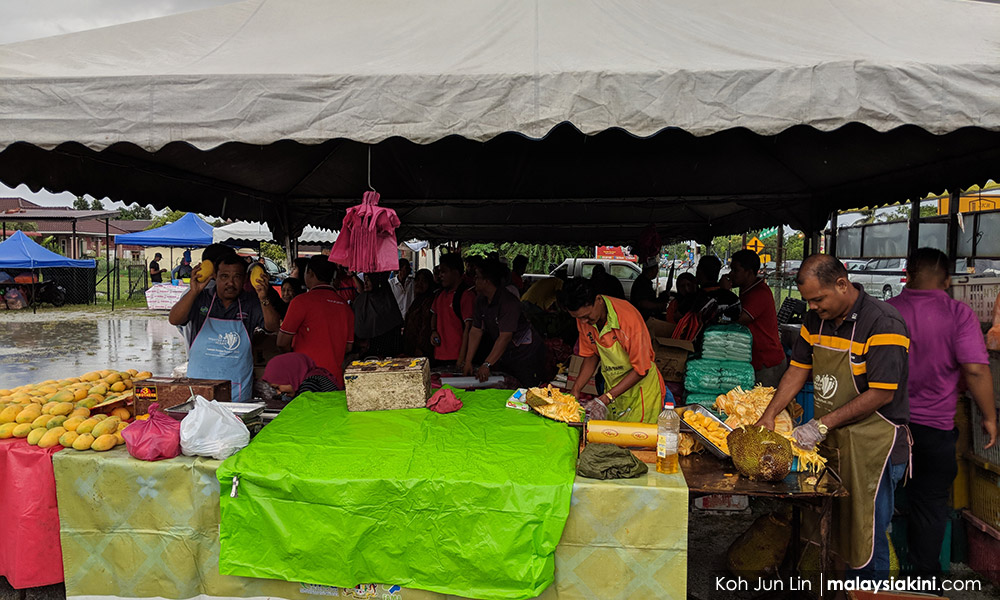 "It's just shopping; nothing to it. It's not like if I buy these things, then I'd have to vote for Umno. Nothing like that," he said.
Another shopper, Maziyani Mansur, 50, also praised the Jualan Harga Runtuh programme.
"It's good, because it's cheap. The chicken just now was RM4 per kg, and the whole bird was RM5.80. So, it's cheap. Normally how could we find deals like this?" she said.
When the issue of voting was raised, however, she said, "That's for each person to decide."
A construction worker who identified himself as Qin, 53, said he is adamant in voting for Pakatan Harapan, although he had consistently voted for BN in previous elections.
"It's just to help poor people. Nothing else. We poor people go wherever things are cheap.
"I used to vote dacing all along, but things are really bad this time. There is nothing, no work. I work in construction by renovating houses, but people don't have money to do it.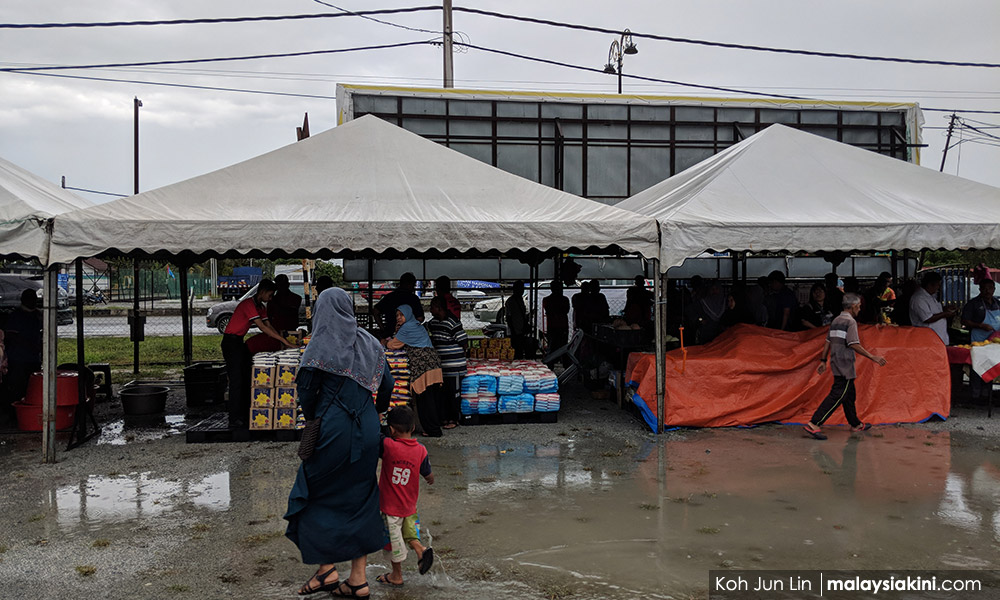 "As soon as GST is implemented, whenever I go buy cement, metal, and whatever else the prices have shot to hell. Everyone is complaining about it in my housing area," he said.
Goods and campaign materials
Meanwhile, 49-year old janitor Fatimah Amit said the programme offers her a good deal, and allows her to buy more groceries. She said she hopes the programme is held more frequently, about once a month.
Asked if it will sway votes, she believes that it might.
"For example, if BN does it, BN might get more votes. And those who already support BN will continue to support BN," she said.
The Jualan Harga Runtuh programme his morning featured goods such as mangoes, beef, chicken, duck, onions, rice, instant noodles, and more, as well as some food and beverage stalls.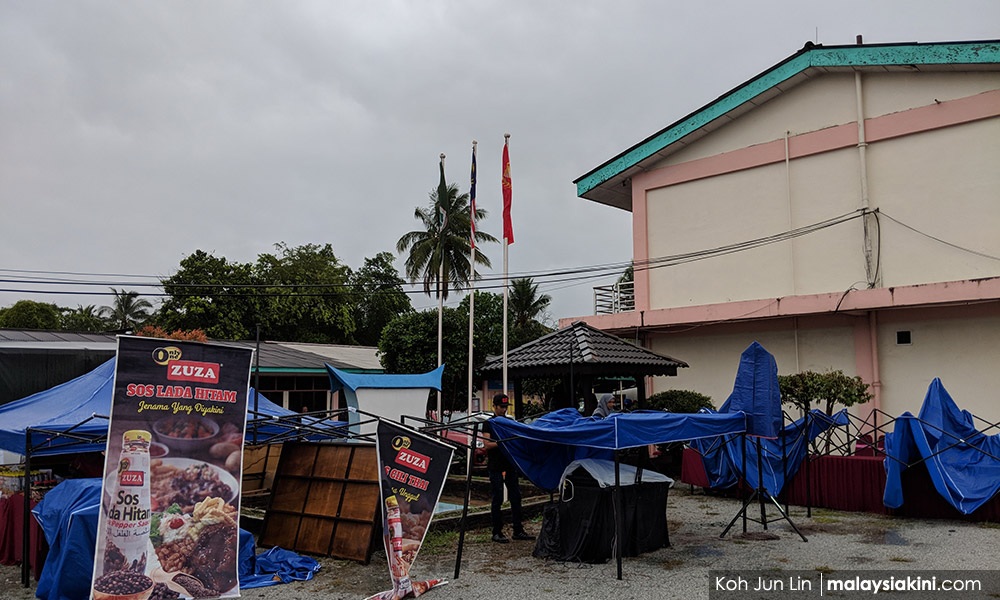 A stall was also set up to distribute BN campaign materials.
The BN candidates for the
Alor Setar
parliamentary seat Yoo Wei How and
Alor Mengkudu
state seat Abdul Malik Saad were also present at the event.
The event was originally scheduled to be held from 8am to 12pm, but was postponed by about 40 minutes due to heavy rain and strong winds.
Some of the canopies that were already set up were lowered or partly disassembled or of concern that the wind might topple it over.
However, the canopies were set up again once the wind and rain died down somewhat, and the programme was in full swing by 9am.
People continuously streamed in and out although it continued to drizzle for hours, and there were at about 30 shoppers at the small market at any given time.
It is understood that the programme is held daily, but at a different location each time.
A man who admitted to being the organiser of the day's event declined to be interviewed for this story. -Mkini