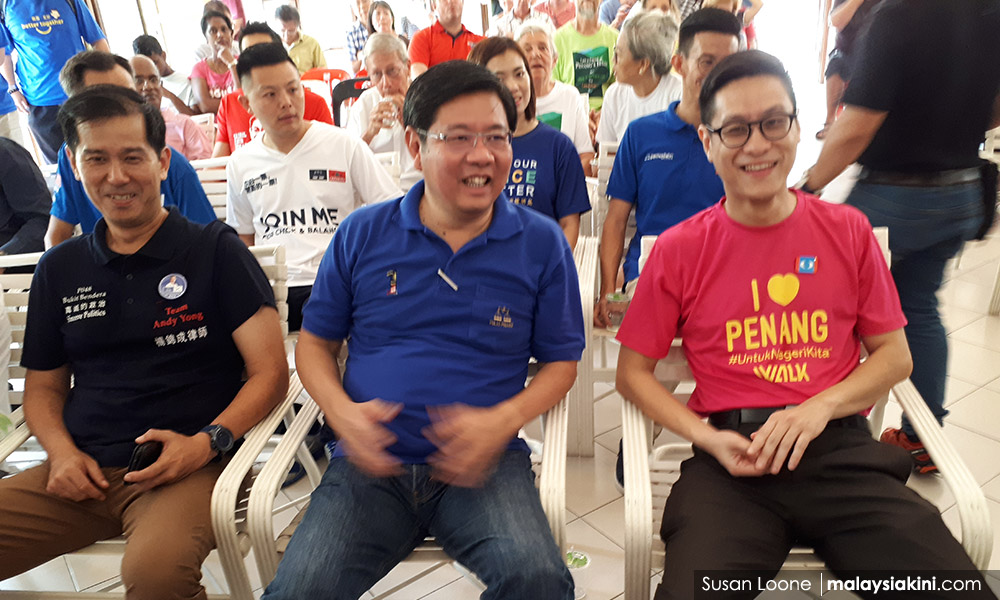 GE14 LIVE DAY 2
| The countdown to the 14th general election starts with the second day of campaigning.
Follow our live blog as the Malaysiakini team brings you the news as it takes place.
Bersih: Nominations fiascos 'disgraceful start' to GE
'Can Teng speak up against Najib?'
Penang hillslope critics grill candidates
Gerakan chief sells chicken at the market
DAP cries double standards after EC removes 'Rosmah' billboard
Off the blocks, Najib opens early fire on Dr M
---
Bersih: Nominations fiascos 'disgraceful start' to GE
11.10am: Petaling Jaya, Selangor
- Election watchdog Bersih holds a press conference with disqualified Harapan candidates PKR vice-president Tian Chua (
Batu
) and S Streram (
Rantau
).
Bersih acting chairperson Shahrul Aman Mohd Saari highlights Chua's disqualification and Streram's claims that he was prevented from filing his nomination papers in Rantau, as examples of a "disgraceful start" to the 14th general election.
"It is a disgraceful start where candidates are denied their constitutional right to be nominated and voters denied their right to the choices of candidates arbitrarily and unlawfully by the EC," says Shahrul Aman.
He also highlights a third case where Bersih finds that the Election Commission had "acted with bias" in regards to accepting the nomination of BN's candidate for the Ketari state seat in Pahang, Lau Hoi Keong.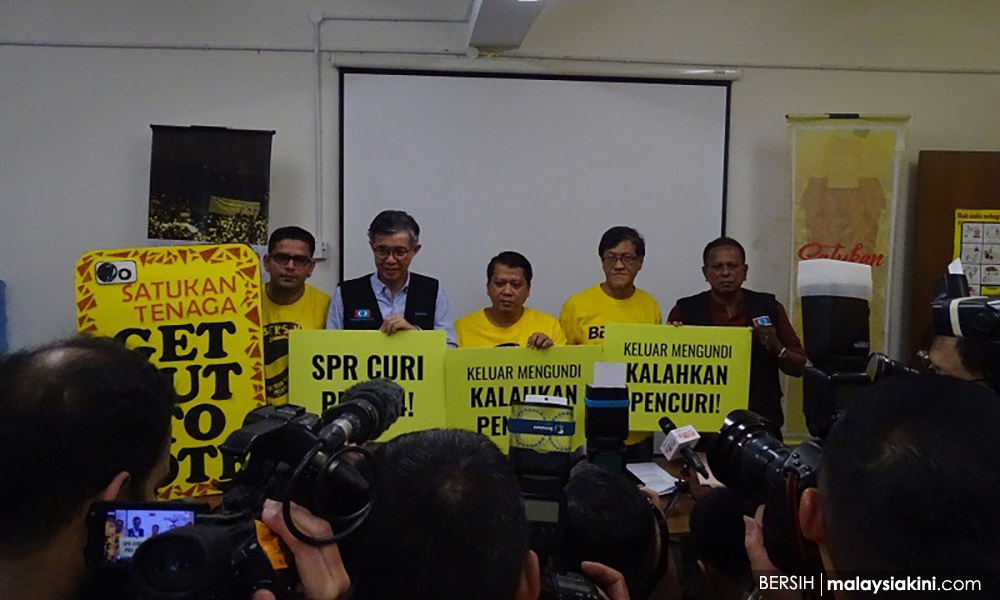 'Can Teng speak up against Najib?'
11.00am, Tanjung Bungah, Penang –
DAP's Zairil Khir Johari has asked his rival for the
Tanjung Bungah
state seat, Penang BN chief Teng Chang Yeow, whether he dares stand up to caretaker prime minister Najib Abdul Razak on GST and 1MDB.
Zairil was responding to Teng labelling him the "blue-eyed boy" of caretaker Penang chief minister Lim Guan Eng, and questioning whether he dared to voice out the concerns of constituents.
"Teng may call me whatever he wants, but I can categorically state that I have no problems voicing out the concerns of the people, as I have been doing precisely that for the last five years as (incumbent) MP for
Bukit Bendera
.
"However, I would like to ask Teng whether he really dares to voice the concerns of the people to his own boss, Najib.
"Does Teng dare to stand up to Najib and voice the biggest concerns of millions of Malaysians, including Tanjung Bungah residents, who reject GST and 1MDB?" he asked in a statement today.
To show how the GST has caused cost of living to spiral, Zairil pointed to the
drop in sales
for hypermarket chain Mydin over the past year, and even repeated a constituent's lament of being unable to have more children despite working two jobs.
Like all Malaysians, he added, Tanjung Bungah residents are also concerned about the implications of the 1MDB financial scandal, which he says has left the country with massive debts.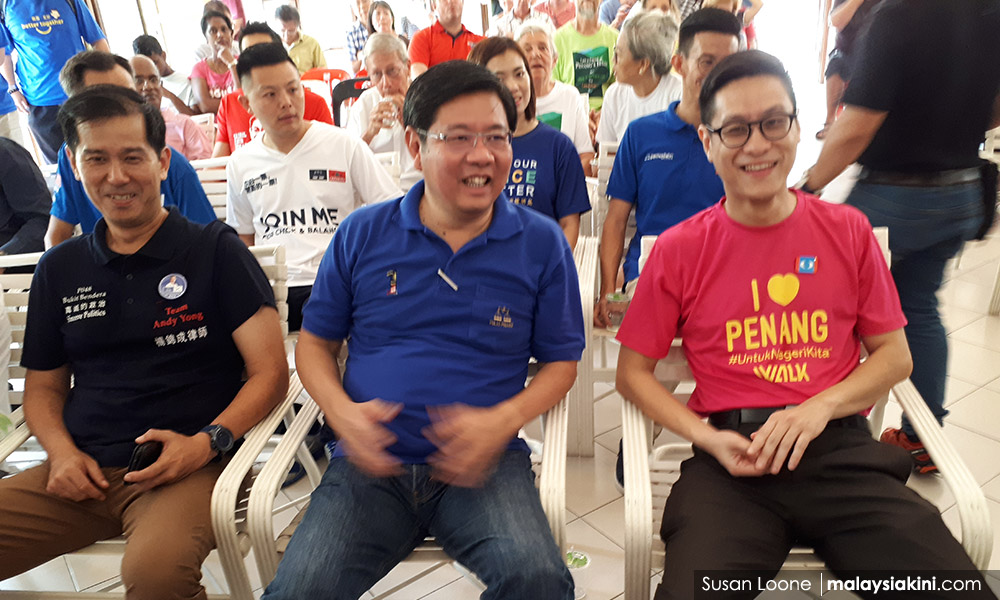 Penang hillslope critics grill candidates
10.30am: Batu Ferringhi, Penang
- Residents of a condominium at Miami Green gather to bring their plight to the
Tanjung Bungah
candidates - Zairil Khir Johari (Pakatan Harapan), Teng Chang Yeow (BN), Chua Cheong Wee (PRM) and Lee Zheng Yong (PBM, Parti Bersama Malaysia).
Tanjung Bungah falls under the
Bukit Bendera
parliament constituency. BN's Bukit Bendera candidate Andy Yong is present.
The residents are complaining about a hillslope development involving 869 units, eight blocks and a density 101 units behind their condominium.
They are concerned over erosion and blasting, resulting in landslides, flyrocks and rock fall and storm water that poses dangers to the condominium.
Condominium resident representative Johnny Gan say they want to find a solution to the problem from those who will represent them after GE14.
Aziz Noor from Global Sdn Bhd, a private environmental and geotechnology consulting firm, and A Rajan from the Penang Island City Council are at the meeting.
"The project is proposed in an environmentally sensitive area with disaster risk under Penang Structure Plan 2020 where it is clearly stated that no form of development shall be allowed," says Aziz.
Aziz reminds the candidates of the Tanjung Bungah landslide last year that killed 11, and the Highland Towers collapsed in Bukit Antarabangsa in the 1990s that killed 48.
"Allowing the project means a violation of the existing development rules, putting lives of people in danger and gambling with their lives. There is clear and eminent danger of hillslope failure risks.
"We must not compromise the safety of the public," he says.
MBPP has yet to approve the planning permission and commencement of the project, and a work order has not been granted.
Penang Forum's outspoken representative Lim Mah Hui is also among the residents.
Gerakan chief sells chicken at the market
10am: Teluk Intan, Perak
- Gerakan
Teluk Intan
candidate Mah Siew Keong and Umno
Changkat Jong
state seat candidate Mohd Azhar Jamaluddin visit the "Jualan Sentuhan Murah" in Taman Nanas, Teluk Intan.
The daily supplies sold at the Jualan include cooking oil, flour, chicken, rice and so on, which is attracting many of Teluk Intan's residents to come to shop.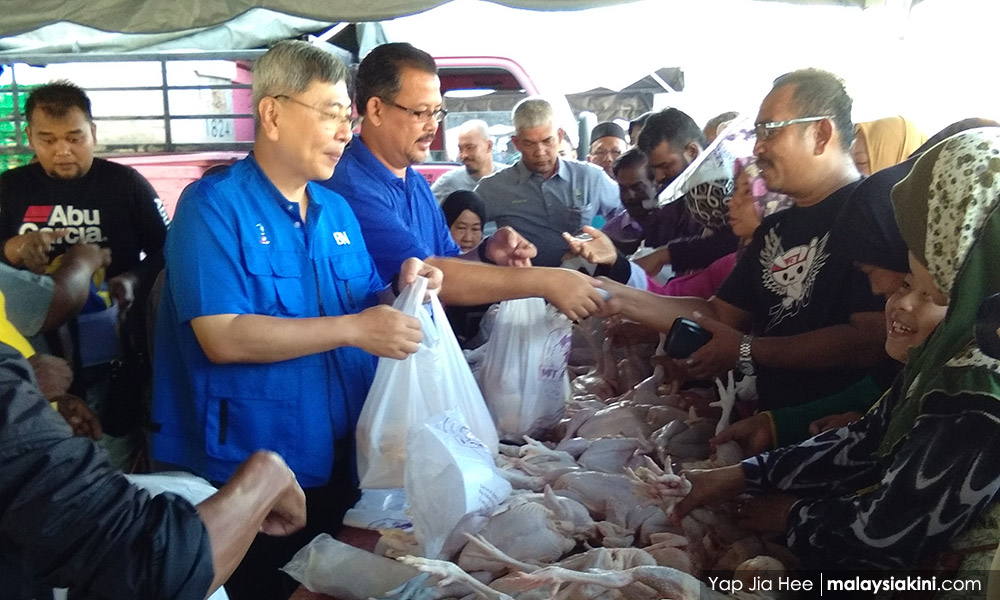 For a while, Mah also helps to sell some chickens at the request of the hawkers and the shoppers. Chicken is sold for RM7, which is cheaper than the RM12 market price.
Mah says this is the fifth time Jualan Sentuhan Rakyat is held in the recent two months.
"It has received good response because household stuff and daily supplies are much cheaper than market price, and helps al lot of people," Mah says.
DAP cries double standards after EC removes 'Rosmah' billboard
10am, Ayer Hitam, Johor
– DAP Johor chief Liew Chin Tong has taken aim at the Election Commission taking down a billboard poster featuring an image of Rosmah Mansor, asking if it has the added responsibility of protecting the wife of caretaker prime minister Najib Abdul Razak.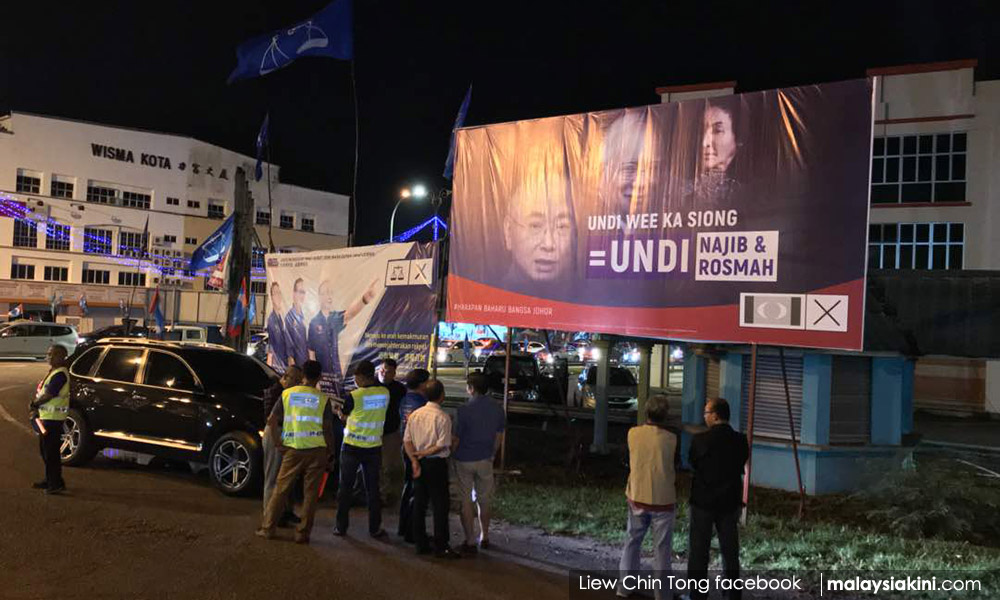 In a Facebook post yesterday, he said authorities wanting to take down a billboard which says "A vote for Wee Ka Siong is a vote for Najib and Rosmah" in
Ayer Hitam
, where he is set to face off against the MCA deputy president.
"EC wants to take down a poster which says a vote for Wee Ka Siong is a vote for Najib and Rosmah on the basis that Rosmah is not a candidate.
"It is not known whether the EC has an added responsibility of protecting Rosmah," he wrote on his Facebook page.
Last week, the EC announced new regulations for
campaign materials
, which among others states that only the images of the party president and deputy can appear alongside that of the candidate.
Today, he took to Facebook to criticise the EC for apparent double standards, pointing to an MCA billboard featuring an image of China president Xi Jinping.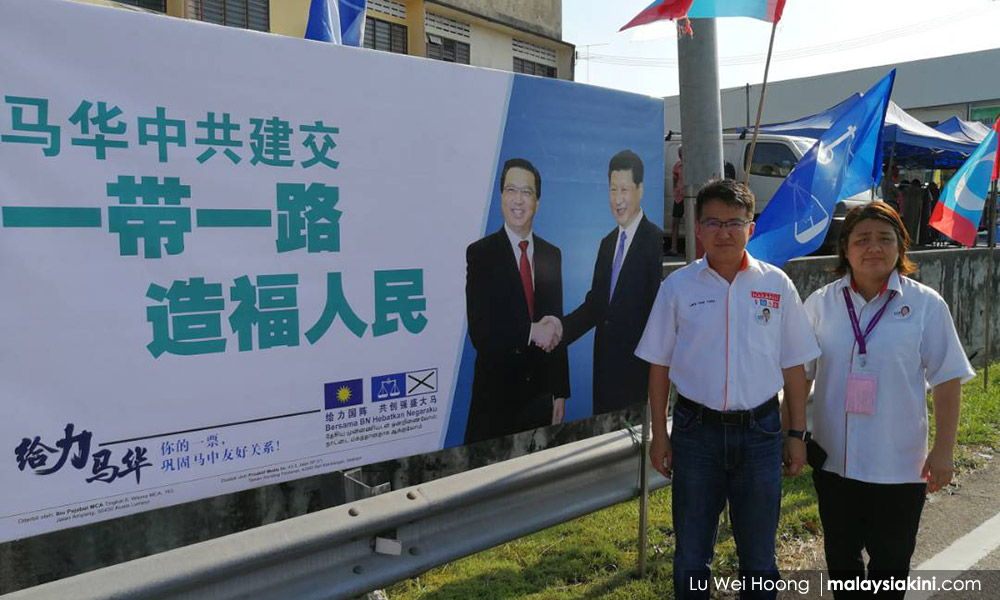 "Out stand is clear. The photo has no negative impact towards Najib and Rosmah.
"Peraturan tambahan (added regulations of the) EC has no force of law. We have not breached any law. The returning officer must explain the reason to remove (the poster).
"Double standards, MCA is allowed to put Xi Jin Ping photo," he wrote.
Off the blocks, Najib opens early fire on Dr M
7.40am: Twitterjaya
- Umno president Najib Abdul Razak starts off the day with a morning tweet lambasting former premier Dr Mahathir Mohamad's new-found alliance with his former deputy Anwar Ibrahim.
In the tweet, Najib repeats his remarks from four days ago that Mahathir was a "number one actor".
"In the past he made incredible attacks against Anwar. I can't even repeat it. But recently he coolly went to court (to see Anwar) like nothing happened. Actor number one!" - Mkini