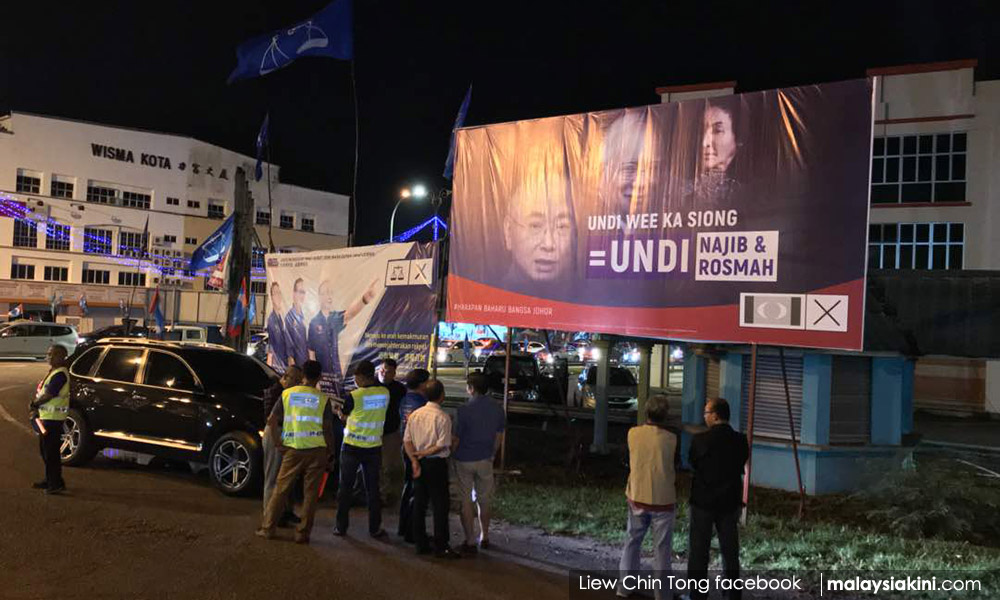 GE14
| An Election Commission official has denied any bias in the removal of a DAP billboard poster featuring Rosmah Mansor, the wife of caretaker prime minister Najib Abdul Razak.
The EC official, speaking on condition of anonymity, said the commission had ordered the billboard poster taken down because Rosmah had nothing to do with the elections.
"Rosmah has nothing to do with the polls.
"But we are not biased. If either BN or Harapan does wrong we will reprimand them," the official said.
Last night local authorities took down a billboard put up by DAP's candidate for Ayer Hitam, Liew Chin Tong, which said that a vote for MCA's Wee Ka Siong was a vote for Najib and Rosmah.
Liew complained of EC bias as they had not ordered a billboard featuring China president Xi Jinping to be similarly
taken down
.
The EC official told
Malaysiakini
that it had not received any complaints about the Xi billboard.
"When there is a complaint we will investigate, don't say we are one sided.
"There are hundreds of roads in an area, we can't monitor all of them," the official said.
Last week, the EC announced new regulations for campaign materials, which among others states that only the images of the party president and deputy can appear alongside that of the candidate. - Mkini