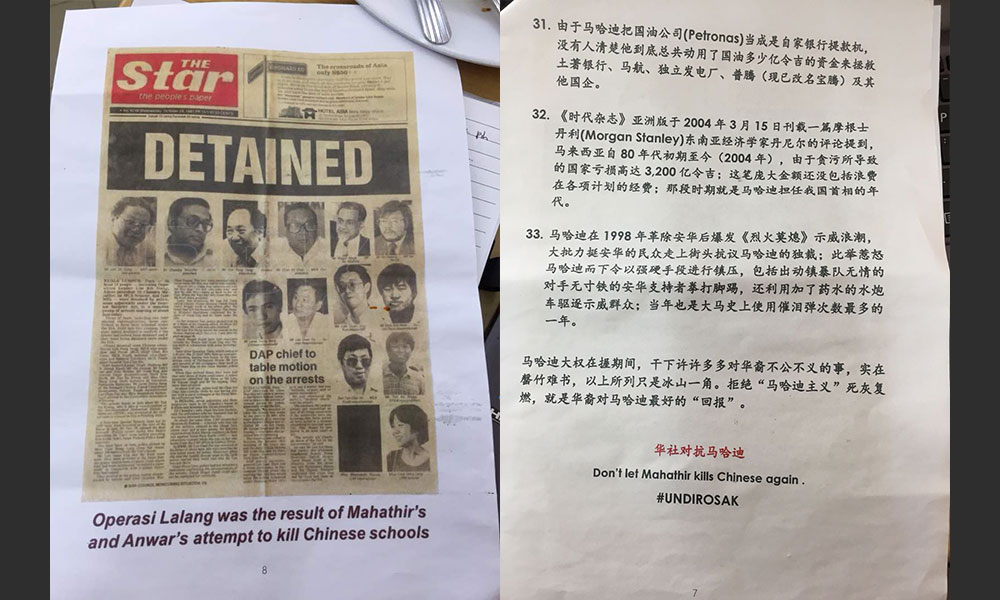 GE14
| A four-page Chinese language pamphlet urging the Chinese community in Langkawi to "exact revenge" on former prime minister Dr Mahahir Mohamad has made its rounds at a local market.
The pamphlets, distributed at a local market in Kuah, described Mahathir as "anti-Chinese" and listed out 33 examples of how Mahathir had failed the Chinese community when he was prime minister.
"In the 22 years Mahathir was in power, he tried to subvert Chinese interest, political power and education but failed.
"Now he is using DAP to pursue his quest against the Chinese. If he succeeds, he will rejoin Umno with the seats he has won.
"This is a timely opportunity for the Chinese to exact revenge on Mahathir by thwarting his comeback.
"It is the best way to take revenge on the evils of his past in oppressing the Chinese," it said.
The pamphlet, which publisher is not identified, also claimed that Mahathir had on Dec 19, 2012, said the Chinese became successful through "cheating".
"He is jealous of the Chinese community's achievement in various aspects (including the economy) and wants to deny the contribution of Chinese to Malaysia," it said.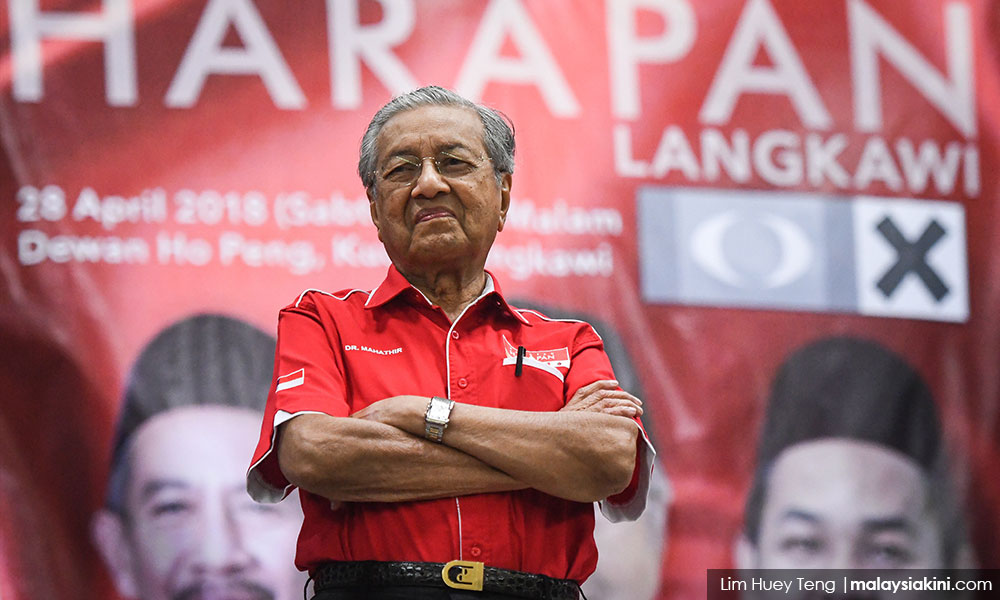 The pamphlet also reproduced pictures of Operasi Lalang, when several Chinese educationists were arrested under the now defunct Internal Security Act.
The document also carried the text: "Don't allow Mahathir to kill Chinese again, #UndiRosak".
Meanwhile, Sinar Harian reported that similar pamphlets have also been distributed at Chinese populated centres and food courts.
Residents said the pamphlets were left in their letterbox and car windscreen.
Langkawi
is a Malay-majority seat but has a small Chinese community, approximately seven percent.
In the last general election, BN's Nawawi Ahmad won Langkawi by an 11,861-vote majority.
However, the seat is now considered "dangerous" after Mahathir, who was instrumental in developing the backwater island into a tourism hub, decided to contest there.
Mahathir will be going up against Nawawi and PAS' Zubir Ahmad.
Mahathir, who was prime minister and Umno president for 22 years, is now leading the Pakatan Harapan opposition coalition to oust his former party. -Mkini