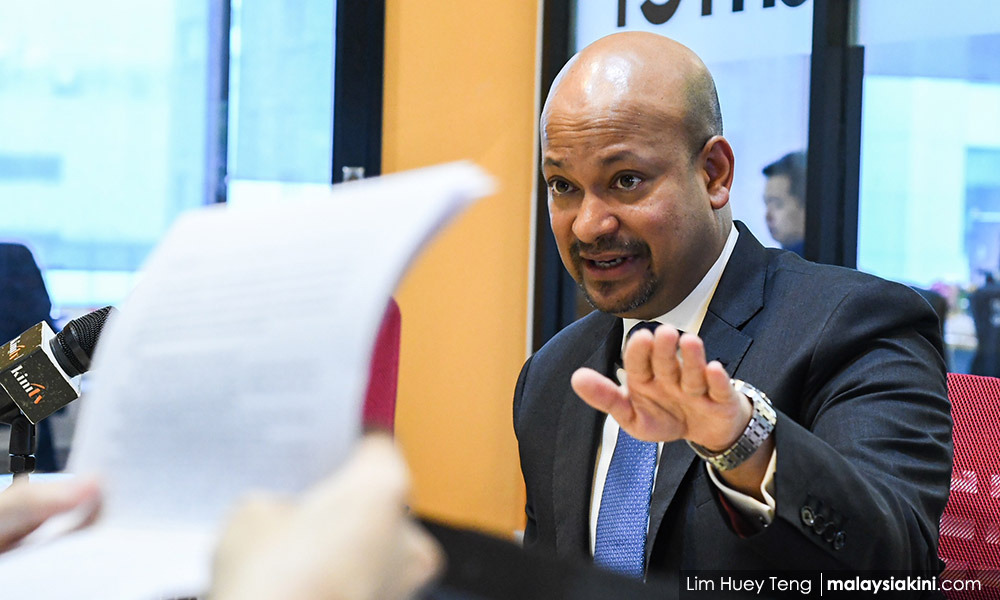 YOURSAY
| 'When US$681m ends up in PM's account, it is no longer a wrong business model...'
Drngsc:
1MDB CEO Arul Kanda Kandasamy is just a well-paid mouthpiece.
He forgets that although 1MDB is an investment fund to bring returns, it was so badly run (intentionally?) that it, according to the US Department of Justice (DOJ), has become a company to funnel away funds under the guise of "investment".
This must be the only investment company that does no business, except to sell assets, accumulate debts by the billions, and allow alleged crooks to prosper. And Arul has the cheek to tell us that it is a business problem?
If you have nothing to hide, show us the accounts. This must be the only investment company in this world where no accounts are presented and where all relevant business information is kept under the Official Secrets Act (OSA). How can this be a security threat?
This is our money and our assets. There is no security threat here, except a threat to the ruling elite. Go head, show us the accounts.
Gary Rangel:
Indeed, if it is purely a business model problem, then why does the Auditor-General's Report on 1MDB need to be
classified
under OSA?
That's a basic issue that neither Arul nor any BN supporters can explain.
Anonymous 2482231502494173:
Arul, don't waste the people's time and money holding this nationwide roadshow where BN's chances are critical.
Don't make fools of the people, especially the Malays. The Malays have learned to differentiate between real facts and lies.
Don't play a fool by saying this isn't a political move to protect BN, because it is clear this is what you are doing.
If you insist that 1MDB is right, then Parliament should be given the chance to debate the matter at length to establish this. But this has completely been denied.
This just shows there is really truth behind the allegations, and the people will give their reply at the 14th general election so we can get to the bottom of the 1MDB scandal.
Anonymous 2436471476414726:
A number of opposition MPs had posed questions to Parliament on numerous occasions regarding 1MDB. The House speaker at the time
disallowed
all the questions on the grounds that it was prejudicial.
So now is it no longer prejudicial? Why do you go around on a roadshow when the government previously ruled that there shall be no discussion on 1MDB?
Parliament is the right forum, not a roadshow in front of a select audience.
Onlooker:
What I don't understand is how this slick debater is never challenged on some of his ludicrous 'truths' about 1MDB.
When he claims that 1MDB's "funds had never disappeared", he needs to be reminded that like 'matter', it cannot 'disappear', but can change its state. So, what have these funds become, and importantly, where are they now?
It also bothers me that they keep repeating DAP's incumbent Kepong MP Tan Seng Giaw's
claim
caretaker prime minister Najib Razak "has not done anything wrong".
This is a misrepresentation, firstly by Tan, subsequently taken up with alacrity by BN.
The Public Accounts Committee (PAC) couldn't pronounce Najib as either culpable, or blameless, because he
refused
to give relevant documents and appear before the committee for questioning.
Undecided:
Arul also joked although he was able to speak like a politician, he was only speaking the truth. A bad joke, to say the least, Arul Kanda.
Maybe you can convince the kampung folks.
No one who has taken the trouble to follow the intrigues of 1MDB is convinced by your far-fetched explanations on this fiasco, so clearly exposed by your inability to explain the probing questions by
Malaysiakini
reporters in
your session
with them recently.
Headhunter:
The trend these days is, if people don't believe you, just go on a roadshow. At least some kampung people can be fooled and will make you feel good.
Just ask that lawyer when went on a roadshow after PKR de facto leader Anwar Ibrahim's last sodomy trial.
Anonymous_Aa3bc2d5:
If you read carefully every word Arul has said so far since the general election was called and since he began his 1MDB roadshow, it is as clear as daylight that he is campaigning on behalf of his boss for BN.
There is no law that precludes a CEO of a company, however bankrupt it is, to join the political hustings.
But it does raise a direct question of conflict of interest and of Arul 's morality, which clearly he has discarded for political and very possibly financial convenience.
Dont Just Talk:
Arul, the simple-minded rural Malays might buy what you are selling - that 1MDB was a wrong business model like what Najib now wants literate Malaysians to believe.
But when US$681 million was found in his personal bank account, it is no longer a
wrong business model
, but more likely a scam. Mkini