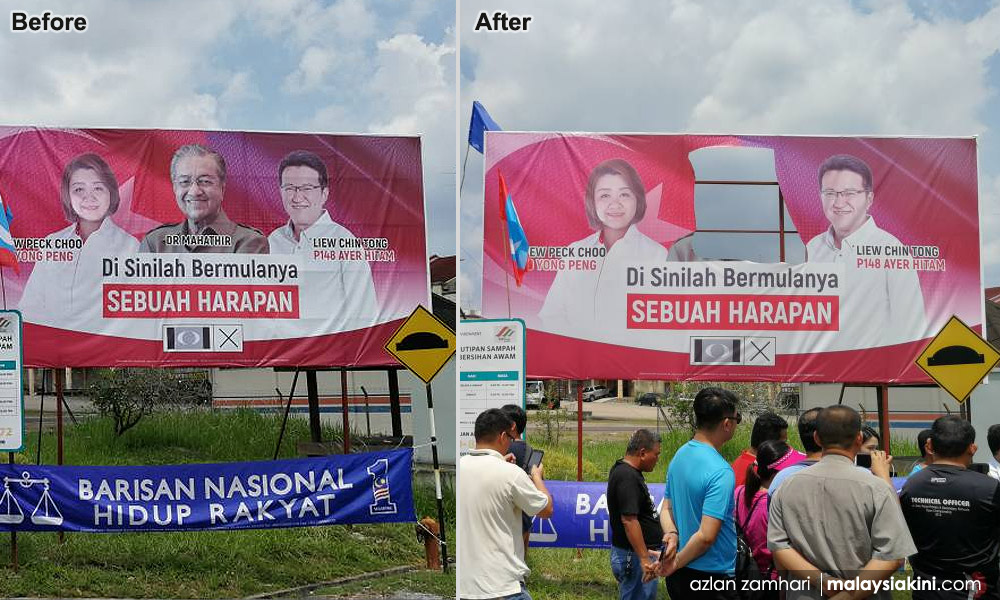 GE14
| In about a minute, enforcement officers had cut out Pakatan Harapan chairperson Dr Mahathir Mohamad's image from a giant billboard in the parliamentary seat of
Ayer Hitam
.
"We were told that our billboard cannot carry Mahathir's picture and the Election Commission's decision was to cut out Mahathir's picture," said Harapan's candidate Liew Chin Tong.
It could not be ascertained if the enforcement officers were from the EC or local council.
The Johor DAP chief said the EC had instructed him to remove all the posters and banners which featured Mahathir's image.
Around noon, enforcement officers in yellow vests arrived at Jalan Utama 1 in Yong Peng, where the billboard was located. It featured Mahathir with Liew and DAP's candidate for the
Yong Peng
state seat, Chew Peck Choo.
The officers then cut out Mahathir's image in the presence of Liew and his team.
According to EC's new guidelines, candidates can only use photos of only two leaders of a political party - the president and deputy president, or their equivalent - on campaign materials, other than the photo of the candidate.
As for the two leaders, they must be from the party which the candidate represents. Images of other officials are not permitted.
However, Liew dismissed the rule as nonsensical.
"Why can't we put up Mahathir's picture? He is the prime ministerial candidate for Harapan," he said.
Meanwhile, the enforcement officers also removed another of Liew's billboard along Jalan Besar in Yong Peng.
The billboard had said that a vote for MCA's Ayer Hitam candidate Wee Ka Siong was a vote for caretaker prime minister Najib Abdul Razak and his wife Rosmah Mansor.
The EC had previously asked for the billboard to be removed, citing that Rosmah was not an election candidate.
DAP subsequently cut out Rosmah's picture.
However, enforcement officers removed the billboard anyway, despite a gaping hole where Rosmah's face used to be.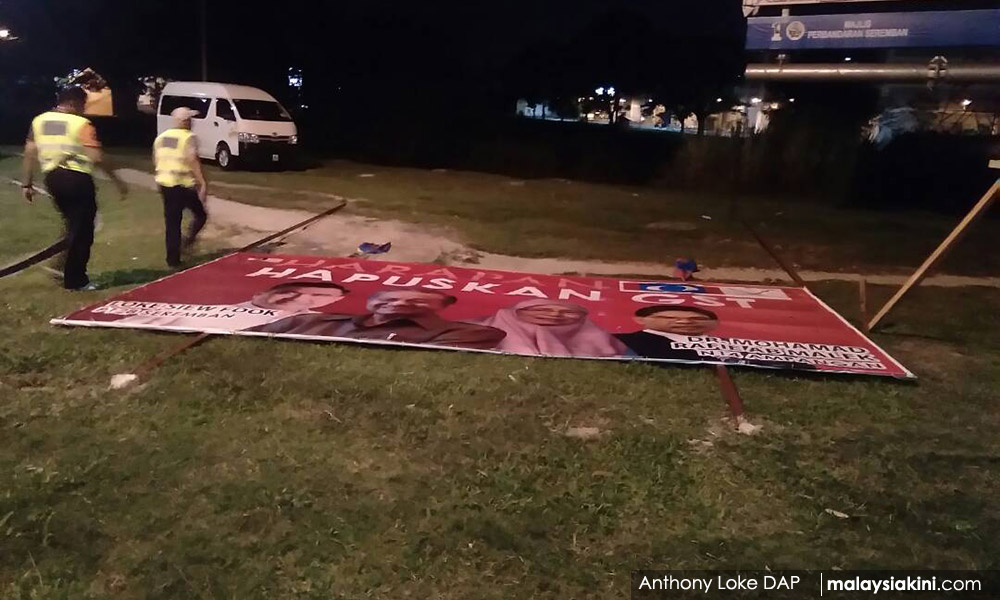 Meanwhile, in SEREMBAN, law enforcers took down a similar billboard featuring Mahathir, Pakatan Harapan president Wan Azizah Wan Ismail and the opposition's coalition's candidates Anthony Loke (
Seremban
) and Mohamad Rafie Ab Malek (
Ampangan
).
Loke, who is also DAP national organising secretary, said he was informed by an EC officer that the billboard will be taken down pending the removal of Mahathir' image.
The billboard was left on the ground. Loke criticised the EC for this.
"They have no right to take down our structure," he said. -Mkini