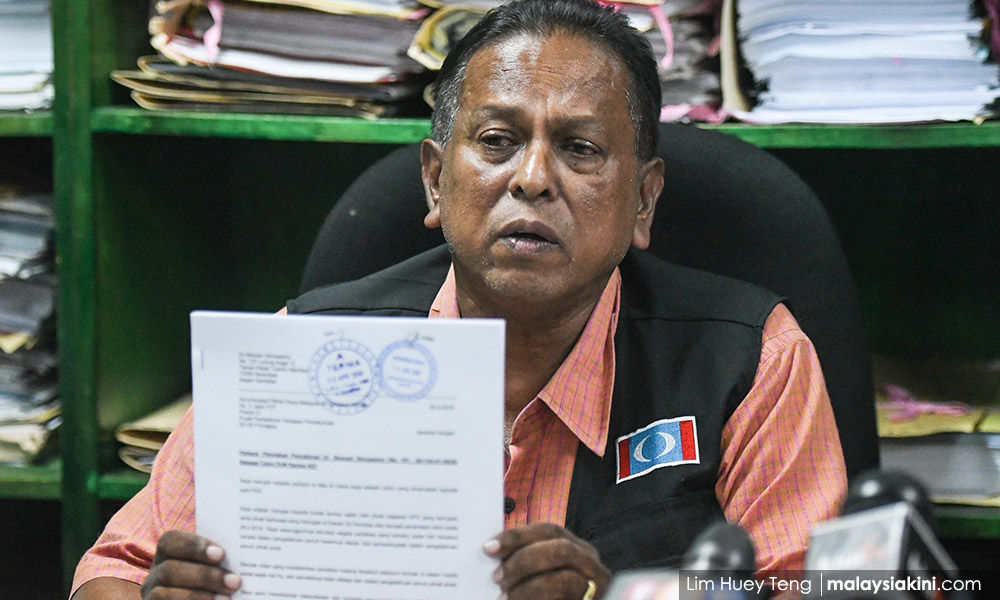 Pakatan Harapan's Rantau candidate Dr S Streram has given the Election Commission until 5pm on Wednesday to rectify the nomination day fiasco of not registering him as a candidate, failing which a petition on the tort of misfeasance in public office will be filed in court.
He stated this in a letter of demand issue to the EC today.
In addition, Streram also lodged two police reports against the returning officer and the EC under Section 124B and 124C of the Penal Code for disrupting the process of parliamentary democracy by not allowing him to be a candidate in
Rantau
.
His lawyer Mohd Haniff Khatri Abdulla said EC should rectify the mistakes they have created as the law appears to disallow a challenge on the disqualification.
"The problem is not created by Streram as he had fulfilled all his conditions by paying the deposit on Wednesday, before nomination day, and also filled the forms as required.
"The requirement of not wearing an EC tag does not warrant a disqualification. It is just a procedure and it does not disqualify one from contesting," he said in a press conference held at his office in Kota Damansara.
Haniff stressed that his client was told that he could collect the EC pass at 8am.
However, he added, nothing was forthcoming and the authorities instead prevented him from entering the nomination centre.
The lawyer said the letter of demand was sent to the EC headquarters in Putrajaya and its office in Seremban.
On the offences under the Penal Code, Haniff explained that the returning officer had prevented a democratic process by prohibiting his client to contest.
He said the bungle created by the EC has resulted in Streram seeking legal remedy instead of campaigning in the election.
"We can challenge the result through an election petition and I would like to warn the incumbent assemblyperson and caretaker menteri besar Mohamad Hasan that this is not over," Haniff added.
The lawyer also questioned the statement made by Mohamad yesterday that Streram's action smacked of a deliberately designed
warfare strategy
.
"(The statement) defies logic. Why would Streram do that?" he asked.
Haniff and Streram also questioned the decision by PAS not to field a candidate against Mohamad, which led to the walkover.
In other seats, they argued, PAS' participation had led to three-way contests. -Mkini