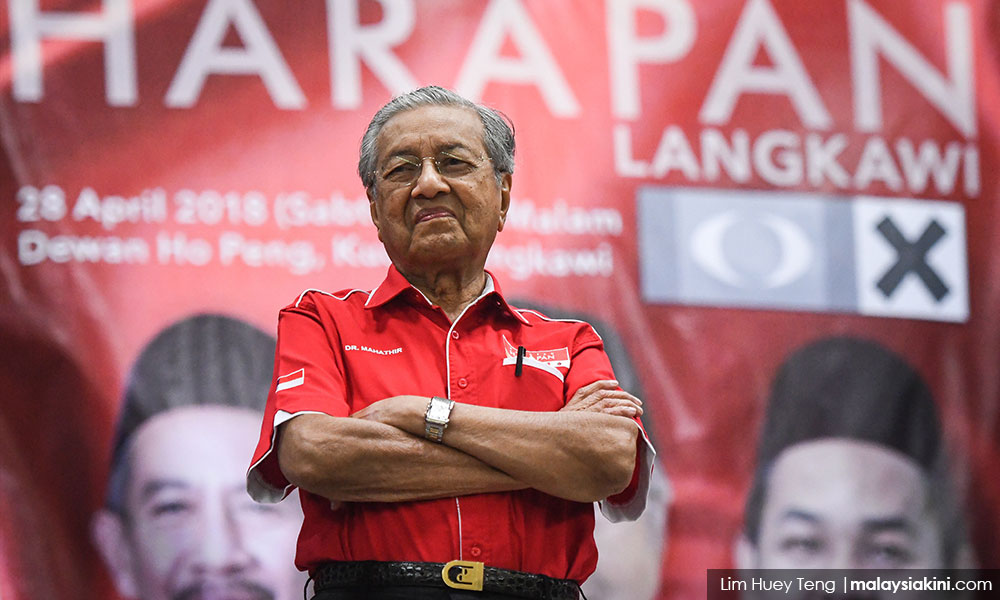 But they admit there was some leakage of fluid from the front wheel which means that the front wheel cannot steer the plane.
This is a very serious thing, because it may result in the plane going off track when taking off or landing.
But fortunately, the pilot discovered the leak before the plane took off, and told me that he cannot fly in that condition.
He told me he would try to repair it but after some time, he said that it cannot be repaired.
The statement that another plane was offered is sheer nonsense, because after I found the plane could not fly, we tried to borrow from friends with private aircraft.
I contacted three friends. Normally they would lend me their aircraft.
But this time they refused to lend their aircraft, and one of them indicated that he is under pressure not to lend me his aircraft.
I also read that the plane was my private jet. That is also a lie. I do not have RM2.6 billion in my account to spend on a private jet or a yacht.
Neither did the CAAM do anything nor did it provide any alternative plane.
So combining the two facts – that the plane is damaged and cannot fly and I cannot get my friends to lend me their plane – it is logical to believe that there is a deliberate attempt to stop me from going to
Langkawi
.
If I had wasted more time I might not have been able to be nominated on April 28.
Fortunately, a friend had chartered a plane to go to Singapore.
I persuaded him to let the plane take me to Langkawi. That's how I got a plane to Langkawi without any help at all from CAAM.
I have flown thousands of times in private jets; there has never been any serious incident that forced the plane to be grounded.
This is the first time I have to experience damage to the front wheel of the airplane.
At other times engine may not be functioning well, and they could be repaired in time, but this damage to the front wheel of the plane is very serious damage.
And it could have stopped me from flying to Langkawi.
That this should happen on this occasion is very significant. I've been flying in the same leased plane from the same charter company many, many times. I never had any problem.
But I am aware that one of the ways for BN to stop Pakatan Harapan to win the election is by stopping people from being named as candidates.
There are other attempts of course, where several of the Pakatan Harapan candidates
could not
be registered or nominated as candidates.
For example not having the Election Commission pass, which is not necessary at all.
I have never used the pass before and it is enough for you to show a blue IC for you to be nominated and named as a candidate.
But obviously, there were deliberate attempts to stop an opposition candidate from being nominated so that the (caretaker) Negeri Sembilan menteri besar wins
uncontested
.
And there's the ease of Tian Chua (Harapan's candidate for the
Batu
parliamentary seat) who has every right to be named as a candidate but again, on a flimsy reason was
unable
to be nominated.
When this happened to me and my plane tampered with, to me it is a very serious matter.
The denial by the CAAM is not the result of a proper investigation.
It is just a denial to say that what I've said is not true. I'm not accusing the CAAM of doing anything wrong.
I know the CAAM does not have a very tight security all over the country to ensure that planes are not tampered with.
That is a very big job to the CAAM, but we are dealing with a government party which is known to use all kinds of tricks in order to win the election.
And one of the tricks, of course, is to stop me from being nominated, and especially me, because I happened to be the leader of the opposition, and if I am not nominated as a candidate, this will have a negative effect on Pakatan Harapan.
So I maintain my belief that the plane was deliberately tampered with to stop me from going to Langkawi.
---
DR MAHATHIR MOHAMAD is the chairperson of Bersatu and Pakatan Harapan, and former prime minister of Malaysia. - Mkini