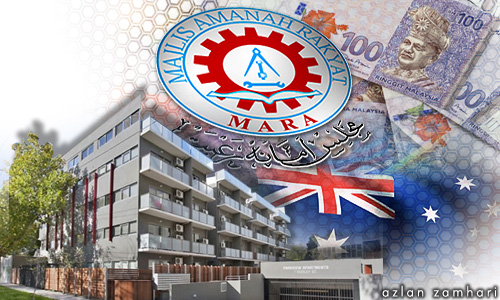 The MACC is almost done with its investigations into the Mara property scandal, said Rural and Regional Development Minister Ismail Sabri Yaakob.
He said MACC is currently waiting for a report from Australian authorities regarding the transactions.
"So it is better for us to just wait for that, there's no use raising the matter again," Ismail Sabri was quoted as saying by Sinar Harian.
Mara's Australian property scandal was first
exposed
in 2015, after which Ismail Sabri's ministry handed over documents related to the dealings to MACC.
Malaysiakini
yesterday
exposed
new details about one of the deals, which cost Mara a loss of up to RM60 million.
The deal to purchase a UniLodge building in Melbourne involved two shell companies registered in the British Virgin Islands (BVI).
UniLodge, a 12-storey building in central Melbourne, was "sold" to Mara Inc for A$41.8 million (about RM138 million) against its then market price and transacted value of A$23.5 million (about RM77.6 million).
The money was paid to a US$2 shell company in the Caribbean, which claimed to have an interest in the building.
The purchase was finalised with two other deals, which were clouded by a number of transactions executed through BVI companies by several Malaysians, including former Mara officials.- Mkini