The management of Universiti Malaya has issued a formal reminder to all its staff and students, forbidding them from making any public statements perceived to potentially have a "negative implication" on the institution and the government.
According to an internal circular issued by the UM vice-chancellor's office, all students and staff are forbidden from issuing any such public statements whether verbally or in writing.
"The public statements include comments to the media, ordinary public or during lectures, broadcasts, publications (and) social media," said the notice which was revealed by several UM student associations.
UM also defined such statements as anything that could have an adverse impact on government policies or the university's decisions on any matter; tarnish the government's or university's reputation; provide facts on the operation of the university; and any comments or clarifications on any incidents or reports related to the government or university.
The UM Association of New Youth (Umany) in a Facebook post condemned the prohibition as infringing rights to freedom of expression as enshrined under Article 10 of the Federal Constitution.
"Umany strongly condemn the prohibition issued by the office of the vice-chancellor. We are of the opinion that this is a means to instil fear among the students.
"We stand firmly on our fundamental rights and is ready to defend against the ridiculous laws," said the group.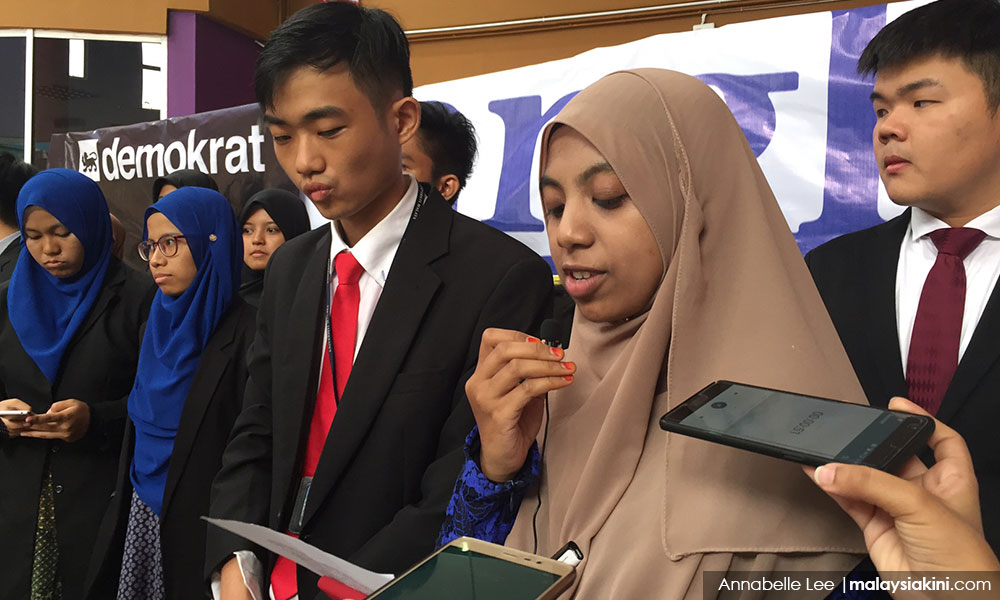 Former UM student leader Anis Syafiqah Md Yusof (centre in photo), meanwhile, told Malaysiakini that this was the first time a formal circular was issued to gag UM students and staff.
"All students received the notice through their student email," she said, adding that in the past, a similar restriction was only stated and enforced through Section 16C of University Malaya (Disciplinary Proceedings) 1999.
In a statement, DAP Youth university affairs director Leong Yu Sheng noted that the vice-chancellor's office in issuing the warning had quoted Rule No.18 under the Statutory Bodies (Discipline and Surcharge) Act 2000 (Act 605).
"The fact is that Act 605 is only enforceable on all staffs of federal statutory bodies and students do not in any way fall under that category," said Leong.
It is so far unclear what had led UM to issue the formal warning. Malaysiakini has contacted UM for comments on the matter.- Mkini