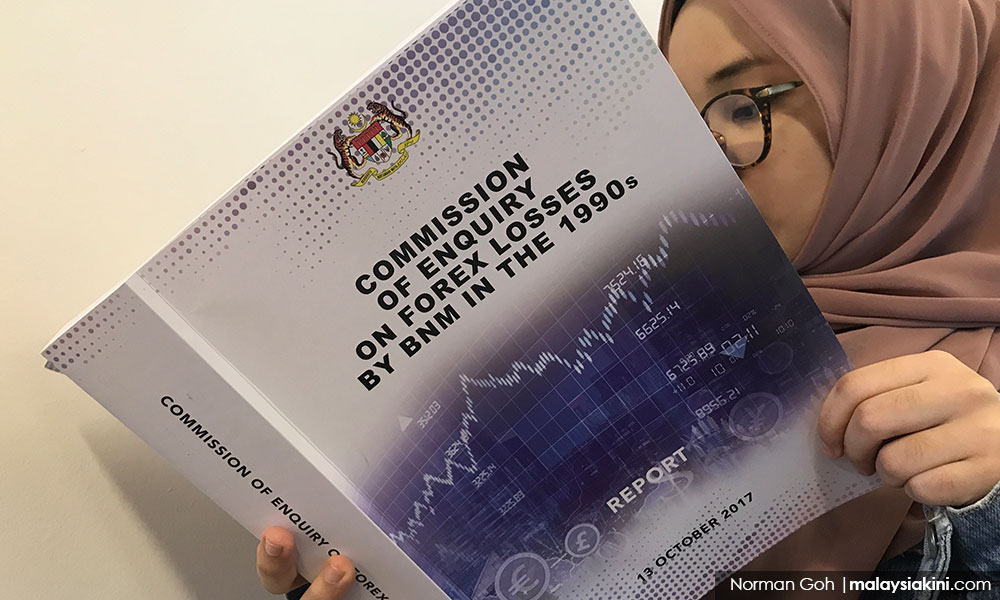 It is a shame that, despite the Royal Commission of Inquiry (RCI) Report on Bank Negara's foreign exchange (forex) losses being presented to the Yang di-Pertuan Agong way back on Oct 13, it is only today, and that too by "ambush", that government is tabling it in Parliament.
And this was done without giving any prior notice of it to the public of its intention to do so, and after all the broo-haa-haa of the purported urgency of the mattter, as announced when the RCI was set up then!
It is worse that, despite knowing on record that former prime minister Dr Mahathir Mohamad was recognised as an interested person by the RCI and having been given the right for him to appear throughout the RCI proceedings, through us as his counsel, but yet the government has not found it important to make a copy of the report available to him through us, as counsel, as yet.
There is a complete lack of respect and courtesy, as can be expected on the part of Prime Minister Najib Abdul Razak's government to do so.
As far as the initial report, as published by the media is concerned, and subject to the fact that we will be making a proper comment on the findings of the RCI Report after a careful study of the report once made available to us in full, and that too upon discussion with Mahathir thereafter, I am completely astounded that there are references made in the report to purported breaches of criminal law, such as criminal breach of trust, when in fact the nature of the materials referred to by the RCI fell ridiculously short and insufficient to reach such conclusions.
The nature of the materials referred to in the RCI proceedings, which were based on hearsay, conjectures, presumptions and assumptions, did not meet any legally acceptable level of credibility to come to any such conclusion.
What more when the RCI proceedings were conducted with the use of "the laws of the jungle" and the "rules of a circus", it would not come as a surprise to me if the findings do not even meet the level of "pre-kindergarten product"!
---
MOHAMED HANIFF KHATRI ABDULLA is a practising lawyer.- Mkini