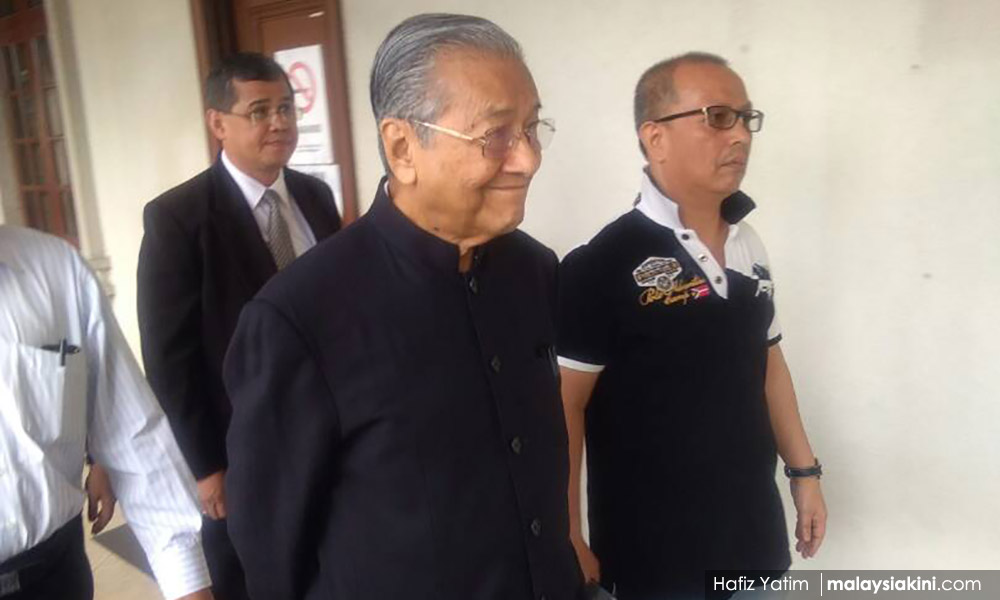 Dr Mahathir Mohamad told the High Court in Kuala Lumpur that he never initiated defamation suits action against anyone, despite the various allegations and false statements made against him when he led the country for 22 years, and even after his retirement.
Mahathir, who was testifying in his son Mukhriz's defamation suit against former Transparency International president Tunku Abdul Aziz Tunku Ibrahim, said a leader may face many allegations due to people disliking the leader.
"However, my responsibility as a leader in the government was to prove to the people of my service through the right things that I did in leading the government.
"My response has always been not to take court action, but to prove that I'm right through the work I did as the prime minister.
"What is more important, I have never made a promise to sue, but then later I did not file a suit, like (Prime Minister) Najib (Abdul Razak) did," said the former premier.
Although Mahathir did not specify what he meant, it is believed the Pakatan Harapan chairperson was referring to Najib's intention to sue The Wall Street Journal for exposing the 1MDB scandal.
Mahathir added that he would answer all allegations made against him either through statements, his speeches, at press conferences when asked by reporters or through his blog.
"For me, my answers are still heard by the people although I am no longer the PM. That is the reason why I did not take any legal action against Tunku Aziz as it is a mere allegation," he said in responding to questions from counsel Mohd Haniff Khatri Abdulla (below) for Mukhriz.
Mahathir said he supported Mukhriz's filing of the defamation suit due to the actions of Tunku Aziz and others like him who wanted to tarnish his son's political career.
Mahathir said the statement made by Tunku Aziz at the end of December 2016 was a result of Mukhriz and DAP parliamentary leader Lim Kit Siang questioning and requiring an explanation from Najib over 1MDB.
"Najib and his ministers had tried to evade in answering regarding 1MDB and the answers given deviate from the facts and is without comprehension," he said.
Hence, Mahathir said by diverting attention from the 1MDB scandal, the defendant (Tunku Aziz) is seen as helping Najib to spread slander and false news.
He said the opposition including Mukhriz, Lim and himself with other ordinary Malaysians were worried about where the country was heading as a result of the abuses done by Najib.
"As a result of that, a Citizens Declaration was made in March 2016 and the statement made by Tunku Aziz is meant to divert attention from this," he said.
Mukhriz is suing Tunku Aziz for two statements made on Dec 30, 2016, and Jan 3, 2017, that there was a secret pact to make Mukhriz prime minister and that Lim would be deputy prime minister.
On cross-examination by Tunku Aziz's lawyer Jahaberdeen Yunos, Mahathir agreed that as politicians they engage in political strategies where some of it is made known while some are not.
He agreed that this is normal for all political parties. When asked whether he has read the allegation made by Tunku Aziz, Mahathir said he had not.
The hearing continues on Friday with Tunku Aziz being cross-examined.- Mkini