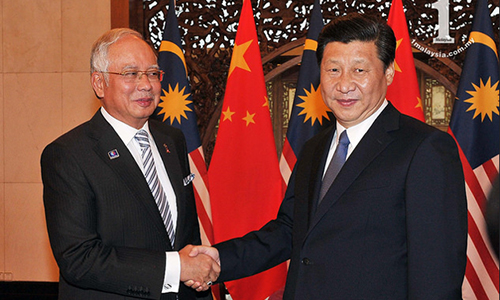 Prime Minister Najib Abdul Razak made an interesting
remark
the other day that left me scratching my head.
"If the opposition takes over (the government), ties with China will become worse, from a high level to low.
"We must avoid this for the sake of (relations) between Malaysia and China," Najib told an audience, including senior leaders of BN component parties during a recent Chinese New Year celebration.
Either that I lack the grey matter to fully comprehend his remarks, or it is just that people who heard the statement are too blind to see that the emperor is not wearing any clothes?
Economic ties with China will not sour if BN loses the election. A change of government in any democratic nation is normal.
In fact, this is healthy, and would help to create greater dynamics in international relations. The new people who take over the helm at Putrajaya will not continue to do "business as usual," not the way it's been done for the past six decades.
To quote a US Democrat politician, Francine Busby: "Like you, I'm fed up with business as usual in Washington. Send me to Congress, and I won't tweak our broken system. I'll shut it down."
Something drastic has to happen in order for the nation make a giant leap forward. Especially crucial when other Asean nations threaten to overtake Malaysia on a number of fronts.
Management gurus have also taught us that if we continue "business as usual," we cannot expect great results.
I believe even China would welcome a change of government, too.
There is no basis to believe that Pakatan Harapan is against Chinese investment. For instance, Selangor Menteri Besar Azmin Ali went to China last year
to woo
Chinese investors.
When he said that he was not spending Malaysian funds on investments there, tongue-in-cheek, Azmin was referring to Najib's gesture of bringing 'bunga mas' to the United States to lay it before President Donald Trump.
The fact that China invited Azmin to speak about Selangor state government's policies and programmes also clearly shows that China welcomes any change of government.
The same can be said of the European Union ambassadors who
met up
with Harapan chairperson Dr Mahathir Mohamad. Maybe their analysts pointed out that GE14 may yet again result in a "tsunami," only bigger than in the last round.
Regardless, what we can safely conclude from Azmin's trip to China is that Selangor, and for that matter Malaysia under a Harapan government, will not jeopardise its relations with major foreign investors.
Najib can rest assured that if this outcome were to come to pass, genuine investors from China would still receive the red carpet – although as opposition leader for a change, he may then criticise Dr Mahathir Mohamad for "selling Malaysia"!
What would really sour China-Malaysia economic ties is not a change of government, but when the Malaysian side can only provide
Google translations
of simple greetings to welcome guests from China.
If Najib is serious about greater economic partnership with China, he and other MCA and Gerakan leaders should explain why until today, the government refuses to acknowledge the Unified Examination Certificate (UEC), when most foreign universities are willing to accept the results for entry requirements.
After all, isn't good command of the language important to help strengthen the warm relationship between China and Malaysia? This is why during his lifetime, the late Lee Kuan Yew wanted Singaporeans to learn Mandarin.
Lee had the foresight that China would one day become a strong trading partner and in order for Singapore to move forward, Lee had to bridge the language gap. It was a very smart move by Lee, at a time when the Chinese Malaysian community had to fight hard to keep the vernacular schools afloat.
This begs two questions: Why did Najib turn down the call to recognise UEC as education minister, and now despite having a broader perspective and having become exposed to China, is still dragging his feet over the issue?
This is why my head still itches. Only ever speaking for expediency's sake, Najib can never be held to anything he says, compounded by the supposed leaders around him never whispering into his ear, "Sire, people can see through your clothes!"
---
STEPHEN NG is an ordinary citizen with an avid interest in following political developments in the country since 2008.- Mkini