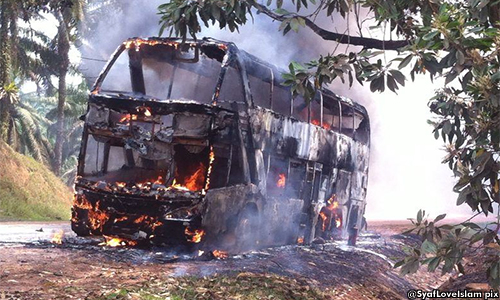 On Monday afternoon, a stage bus with 42 passengers on board caught fire along Jalan Tebrau in Johor Baru. All passengers and the driver managed to rush out before the bus was engulfed in flames.
Judging by the number of bus fires in recent years, it appears that the authorities and bus operators have not taken preventive measures. Perhaps the 11 incidents over the course of just two years, as listed below, will jolt them to realise that fire poses a serious risk to buses and passengers.
Jan 15, 2015
: Eight people died while 21 were injured after a tour bus overturned and caught fire at KM326 of the North-South Expressway near Tapah.
Nov 11, 2015
: A RapidKL bus caught fire in Petaling Jaya and all 20 passengers and the driver escaped unhurt. The fire started from a short-circuit in the engine area.
Oct 13, 2016
: At Wangsa Maju in Kuala Lumpur, a RapidKL driver stopped his bus and told passengers to get out after smoke emerged from the engine compartment. The bus was soon engulfed in flames, which were so intense that six cars parked nearby caught fire.
Nov 29, 2016
: A tour bus caught fire after it had stopped at KM92 of the North-South Expressway, between Ayer Hitam and Yong Peng, after one of its tyres burst. Luckily, all 30 Chinese tourists escaped unhurt before the bus was completely destroyed by fire.
Dec 16, 2016
: Forty passengers scrambled out of a tour bus when it burst into flames at Jalan Sultan Ismail in Kuala Lumpur.
Jan 2, 2017
: An express bus on its way from Kuching to Miri caught fire at KM30 of Jalan Serian-Sri Aman near Balai Ringin. While there were no passenger casualties, the driver suffered burns on the ear and hand, and the bus was 80 percent destroyed.
Aug 20, 2017
: An express bus carrying 10 passengers heading towards Johor Baru burst into flames at KM121.4 of the North-South Expressway. The bus was charred to the core.
Dec 1, 2017
: A double-decker express bus travelling from Alor Star to Kuala Lumpur caught fire at KM201.5 of the North-South Expressway. Luckily, 38 passengers and the driver escaped a fiery death, as the blaze destroyed 80 percent of the bus.
Dec 14, 2017
: A double-decker tour bus with 32 Indonesian tourists bound for Kuala Lumpur from Johor Baru caught fire at the KM99.9 of the North-South Expressway. Mercifully, no one was injured but the bus was destroyed and all passports and luggage stowed on board were burned.
Jan 31, 2018
: A RapidKL bus caught fire at KM31 of the Federal Highway. Attempts to put out the fire using the fire extinguisher failed, and the Fire and Rescue Department deployed 14 firemen to the scene. By the time the fire was put out, the bus was destroyed.
Feb 18, 2018
: A tour bus travelling from Kundasang to Kota Kinabalu with 40 passengers caught fire at Crocker Range. Although the bus was destroyed, there was no injury but the next fire may take a toll if such incidents continue unabated.
We may not be so lucky the next time a bus catches fire. It appears that we are not heeding tell-tale signs that all is not well with our locally-built buses, particularly the electrical system fitted by coachbuilders or accessories added on by bus operators.
Although all buses are required to pass the bi-annual inspections at Puspakom, vehicle examiners may not have the expertise to check the vehicle's electrical circuits and wiring.
Buses should be equipped with at least two fire extinguishers, one near the driver and the other in the engine compartment. For buses with luggage compartments, another fire extinguisher can be placed there.
Apart from the sufferings of those injured and untold miseries to the loved ones of those killed, a bus catastrophe involving foreign visitors would also severely damage our tourism industry.- Mkini